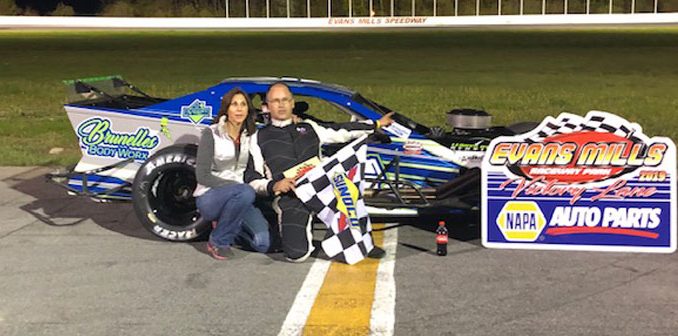 EVANS MILLS, NY – Perhaps the most competitive night of racing in the new 2019 season took place at the vastly improved Evans Mills Raceway Park Saturday night, May 18.
A new process was introduced for setting the feature line-up in each class. The winner of the first heat of the class was invited out to the track surface during the intermission and drew a number to signal how many cars would invert for the feature.
Josh Verne Jr. drew the #5 for the Serv-Pro Thunderstock/Sport Compact feature, while Colby Felber drew the #7 for the Lafave Automotive/Race One INEX Legends. It was Coleby's first win of any kind in the Legends at Evans Mills. Chad Blair also drew the #7 for the Caskinette Ford Modifieds, resulting in significant inversions for all three feature races.
Also new on this night was the addition of a "sticky" outside lane, groomed by putting down rubber during the week from the newly named Cheney Tire Racemaker. The Racemaker uses a reverse tire contraption to lay rubber on the track. A sticky substance similar to Track Tack was added in the outside groove in the turns. Results were a bit mixed as some thought the lane might be too high while others thought track temperatures were still too cold. However there did appear to be more competition in the feature races than on previous nights.
Amanda Dafoe made a triumphant return to Evans Mills by stalking Craig Caskinette in the Sport Compact feature then getting by to dominate for the feature win. Justin Pope was first across the line in the Serv-Pro Thunderstock class. Luke Lebrun was rewarded with the win in the Legends class after the family's 5 1/2 drive from Newtown MA. The young driver was very professional in victory lane as he thanked his sponsors and the track for their work and support. It was a second win in a row for the #007 of Randy Brunelle of Malone in the Caskinette Ford modifieds. Randy and Chuck Meyer put on a torrid battle for the lead with Randy getting by with about ten laps to go.
The dreaded full moon effect didn't have too much effect on the race night although there was some damage. Corey Trombley in the #006 thunked the wall pretty good nose first and retired for the night. Mason Spencer in the #30 lost a clutch bearing and parked it for the night.
It was a fine night of racing on Armed Forces night with the sponsorship of Caskinette Ford. Racing next Saturday May 25 begins at 6:45 pm with a full card of action along with the Classic Asphalt Modified Series Racing making an appearance this Memorial Day weekend.
Caskinette Ford Sportsman Modifieds:
| | | |
| --- | --- | --- |
| 1 | 7 | Randy Brunelle |
| 2 | 126 | Chuck Meyer |
| 3 | 92NY | Brad Winters |
| 4 | 2NY | Tony Pettinelli |
| 5 | 6 | Chad Blair |
| 6 | 2X | Terry Gardner |
| 7 | 6B | Josh Reome |
| 8 | 30 | Mason Spencer |
| 9 | 6 | Corey Trombley |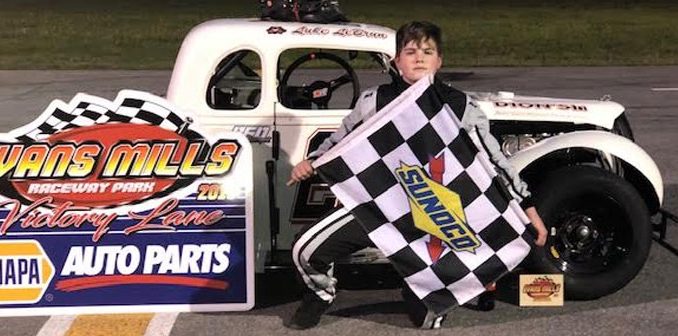 INEX Legends:
| | | |
| --- | --- | --- |
| 1 | 27ma | Luke LeBrun |
| 2 | 14 | Coleby Felber |
| 3 | 31 | Joshua Marchese |
| 4 | 33 | Breanne Gilligan |
| 5 | 10 | Chris Malbeuf |
| 6 | 17ma | Eric LeBrun |
| 7 | 46 | Zach Anderson |
| 8 | 88 | Cole Perry |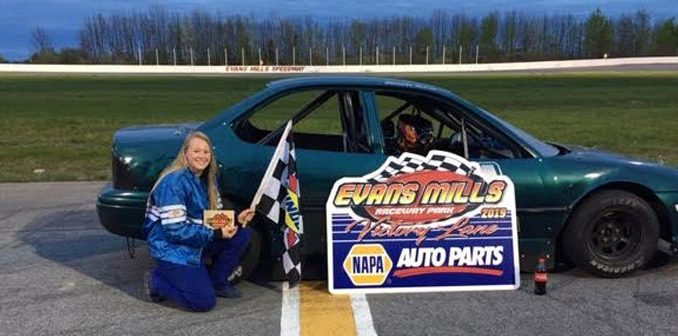 Sport Compact:
| | | |
| --- | --- | --- |
| 1 | 61 | Amanda DeFoe |
| 2 | 19 | Craig Caskinette |
| 3 | 96T | Tim Dunn |
| 4 | 26B | Ray Bechler |
| 6 | 17 | Chuck Powelczyk |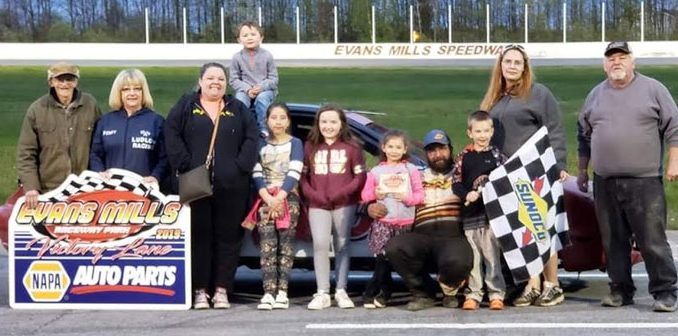 Serv-Pro Thunder Stock:
| | | |
| --- | --- | --- |
| 1 | 100 | Justin Pope |
| 2 | 1v | Josh Verne Jr |
| 3 | 9 | Colby Goodale |