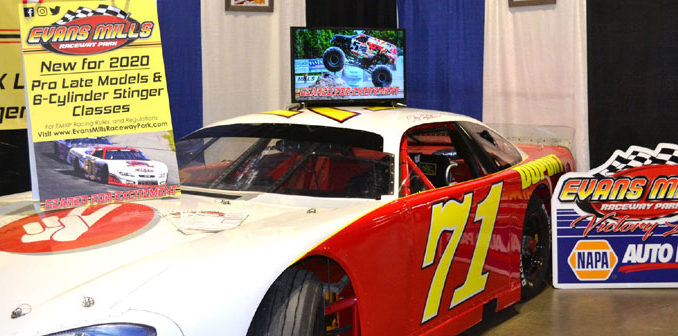 EVANS MILLS, NY – Evans Mills Raceway Park is proudly participating in the 34th Annual Syracuse Motorsports Expo at the center of progress building, NYS Fairgrounds Saturday March 14th and Sunday, March 15th.  Show hours are Saturday March 14th 10 am- 8pm and Sunday March 15th 11am – 4pm.
Promoter and event organizer, Jeremie Corcoran promises a building full of race cars, racetracks, sanctioning bodies, vendors, children's activities and so much more.
Team EMRP will be on display promoting the action-packed Saturday Night Race Schedule May through September 2020.
Evans Mills Raceway Park will welcome the return of the Sportsman Modified, INEX Legends, Sport Compact as well as the NEW ProLate Model Division and the entry level 6-cylinder Stinger Class.
Spectator Racing, Skid Plate Racing, Monster Trucks, Sprint Cars, Classic Asphalt Modifieds, Vintage DIRT Cars, New York Super Stocks, Small Block Supers, 350's and Micro Sprints, Bed Races, Power Wheel Races, Trike and Box Car Races are just a sample of what we have been organizing over the "off season."
Stay up to date with all of our announcements and updates as we continue to work hard at providing a clean, affordable, family friendly facility for you to create lasting memories with your families.
Updates and announcements will be continually posted on www.evasnmillsracewaypark.com, Facebook, Twitter and Instagram, as well as our BRAND NEW YouTube Channel https://www.youtube.com/c/evansmillsracewaypark