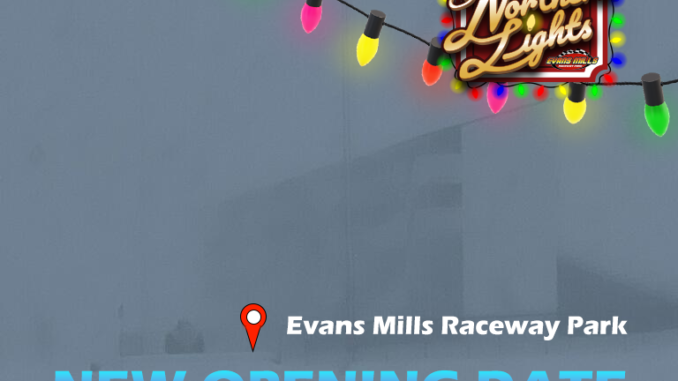 Evans Mills, NY – The grand opening of the new drive-through holiday light show Northern Lights at Evans Mills Raceway Park Presented by the Bob Johnson Auto Group and NBC Watertown expected for Thanksgiving Night will now occur the following Thursday December 1, 2022, at 5:00pm. Last weekend's historic snowfall affecting Evans Mills, NY and northern New York made the originally scheduled setup of Northern Lights impossible. Northern Lights will begin setting up the show this week in preparation for the new grand opening next Thursday.
The Evans Mills Raceway Park saw multiple feet of snow cover the facility over the weekend. The Gill family has been hard at work combating the snow by plowing paths for patrons' vehicles and areas for setup. "The boys have worked day and night to overcome the snow, however we want to provide the absolute best show possible, and this extra time will allow for us to do just that! We are so excited for the opening!" said Co-owned Peggy Gill.
Families planning to attend on Thanksgiving night will still have an opportunity to attend on major holidays together as Northern Lights will be open Thursday-Sunday each week until New Year's Day including being open on Christmas Eve, Christmas Day, New Year's Eve, and New Year's Day.
People who purchased their tickets online for this week will be contacted by the EMRP staff and will receive a coupon code valid for entry on any other date during the event.
General Manager Nick Czerow commented "We were really excited for this week's opening. It is tough knowing we have done all that we can to be prepared but the snow made the ultimate decision for us. The most important thing is that we deliver Northern Lights at 100% starting with the first vehicle through. We wouldn't be able to do that if we opened on Thanksgiving."
Czerow continued, "We've learned from working with John at Brandano Displays that the setup for Northern Lights is a multiple day job and from his experience we are better off that nothing was set up when the snow hit. It would be much more challenging to carefully dig out displays and generators."
Tickets for Northern Lights are on sale now and goody for any day of the event.
Tickets are available at www.evansmillsracewaypark.com/northern-lights-holiday-light-show/
For more information contact Northern Lights at (315) 323-6033 or emrpgm@yahoo.com.