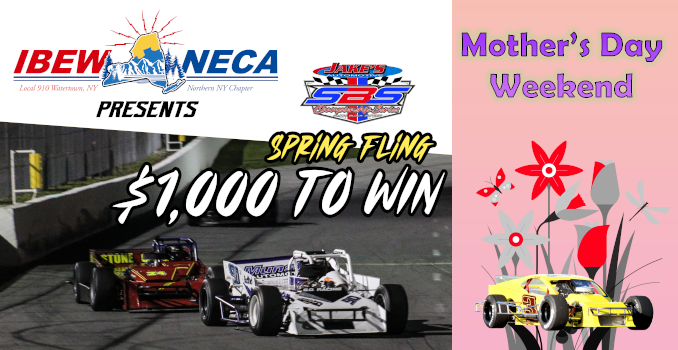 EVANS MILLS, NY – The Evans Mills Raceway Park is preparing to open their doors to fans again this Saturday May 13th. IBEW Local 910 and Northern New York NECA are presenting our Mother's Day Weekend show. The first 200 mothers to walk through the gates will receive a packet of sunflower seeds to take home. The night's show is filled with a full slate of weekly division racing plus the first of two appearances in 2023 for the Jake's Automotive Small Block Supermodified Championship series.
UltimateQM.com has come on board to sponsor the SBSCS race to help boost it to a $1,000 to win event. In 2022 Mike Bruce swept both SBSCS races at EMRP. With a strong field of cars, there's a good chance someone could capture their first career win.
All weekly divisions will be back in action as well. The first week of the season saw Bryce Bailey pick up his first win at EMRP in the Caskinette Ford Sportsman Modified division in dominating fashion. Track veterans Chuck Powelczyk (Sport Compacts), Tyler Papin (Excess Storage Pro Late Models), and Kevin Greenfield (Thunderstocks) took home the hardware in their divisions. Christman Fuel Service INEX Legends 2022 track champion, Chris Malbeuf didn't miss a beat as he returned to victory lane to defend his title.
The Evans Mills Raceway Park will continue to extend their condolences to the Sharkey racing family that has competed with the Evans Mills Raceway Park and other New York facilities for many years. Ron Sharkey, friend, and owner of the #71 Matt Sharkey sportsman modified unexpectedly passed away Sunday morning. Starting this weekend, cars competing at EMRP will be honoring his memory and celebrating his passion for the sport by donning a #71 decal.
Ron Sharkey's family has opened a GoFundMe page to help alleviate cost from the family in funeral planning. Please consider donating to help them in this difficult time. Donations can be made by following this link: Ron Sharkey GoFundMe. Thank you for your consideration.
For more information regarding tickets, suites, or competing at EMRP contact (315) 323-6033 or emrpgm@yahoo.com