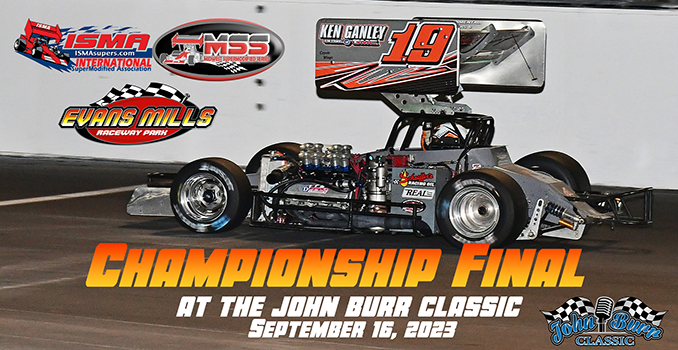 Shared Press Release from the ISMA/MSS office and the Evans Mills Raceway Park
CLAY, NY – The newly merged ISMA/MSS Supermodified Series is pleased to announce our last TBD on our race schedule.  We are partnering with the Gill family and Nick Czerow of the Evans Mills Raceway Park for our Championship Night on Saturday, September 16, 2023. What a way to end our season at a new racetrack with our first ever ISMA/MSS Champion.
The new championship race for ISMA/MSS will join the annual John Burr Classic Weekend at EMRP. Burr, a loved presence in northeastern motorsports shined as a track announcer for Evans Mills since the inception of the track. Burr was also the voice of the Can-Am Speedway and Super Dirt Week at the NYS Fairgrounds. EMRP dedicated their final racing weekend to John Burr in 2019 to honor his generosity, character, and love for racing in the North Country.
EMRP owner Peggy Gill stated "ISMA/MSS's addition to the John Burr Classic Weekend brings our racing to the next level for our fans and our facility as we continue to build our future. As a team, we look forward to providing another first-class experience for the series, teams, and spectators."
General manager Nick Czerow added "We are proud to be able to support the newly merged ISMA/MSS Series and host their championship race with all the biggest names in supermodified racing. I'm looking forward to our crowd seeing a new track record set and enjoying a great weekend of racing."
The addition of ISMA/MSS now brings the John Burr Classic Weekend to seven division of racing:
ISMA/MSS (75 laps)
Sportsman Modifieds (75 laps)
Small Block Super Championship Series
Pro Late Models
INEX Legends
Sport Compacts
Thunderstocks
The Evans Mills Raceway Park is a 3/8th mile asphalt oval located adjacent to the US Army's Ft. Drum and 15 minutes outside of Watertown, NY. The facility is handicap accessible and includes 54 hospitality suites available for rental during race weekends. For more information on suite rentals or the annual John Burr Classic contact EMRP at emrpgm@yahoo.com or (315) 323-6033.
We are super excited with our schedule this year, as we hope you are too!  Please be sure to mark those calendars as we gear up for our race season  We sure do hope to see you at the races!
www.midwestsupermodifiedseries.com