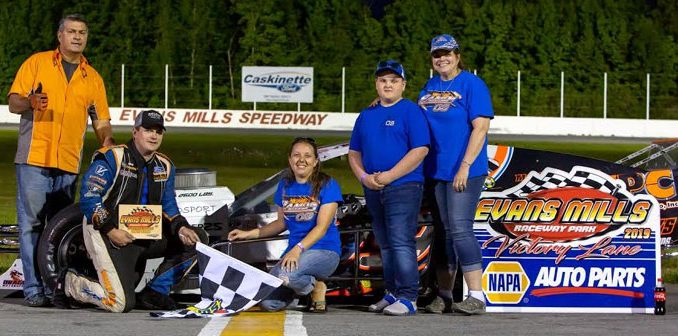 EVANS MILLS, NY – A perfect spring evening greeted race fans at the much improved Evans Mills Raceway Park on Daldry Marine Canvas night Saturday evening, June 8. Another large crowd and a larger 50/50 jackpot were hallmarks of the evening. A great rendition of the National Anthem by military veterans Mark Adams and daughter Brianna Wurth got the evening started.
It was another night of #1's for the inversion for the features as Craig Caskinette and Mason Spencer drew the #1, meaning no inversion for the Sport Compacts and Caskinette Ford Modifieds respectively. Brianne Gilligan pulled the #4 for the INEX Legends race inversion. After winning a few features but not finishing in the top spot for the combined Sport Compact/Serv Pro Thunderstock race, Tim Dunn vaulted to the front and won the feature in the #96T. Dunn said after the race his car had a suspension problem they finally figured out and his car was much better. Future nights may bode well for the Dunn team. Craig Caskinette crossed the line second. Josh Verne Jr. was the victor again in the Serv Pro Thunderstocks with Justin Pope a close second.
Stittsville, Ontario, Canada's Matt Haufe picked up his second win in as many tries in the INEX Legends class. Josh Marchese finished second with Chris Malbeuf and Brianne Gilligan rounding out the top four. There were still a few yellow flags in the race but much less than last week and less damage to the cars.
Mason Spencer started on the pole for the Caskinette Modifieds and was confident before the race but Mike Ramos in the #09 had a very fast car on this night. Mike took over the top spot on the first lap and never looked back. At one point, Mike turned in a lap of 15.06, one of the fastest of the year at Evans Mills. A rule change allowed the Ramos car to run 50 pounds lighter than previously, although in victory lane Ramos said he didn't think it made much difference. The car handled well and the #09 was able to stay out of trouble on the track. Mason Spencer was second in the #30 with Tony Pettinelli and Chuck Meyer in third and fourth.
The track compound continued to provide an outside racing groove for the night. The 50/50 drawing yielded $466 to the winner, highest so far this year. The 50/50 pot will definitely be higher next week as the Empire Super Sprint cars will join the other classes for a full night of racing on Saturday, June 15. The night has been dubbed the Asphalt Spectacular and will feature the fastest cars of the season on the 3/8 mile asphalt. Race time is 6:30 pm with an admission charge of $20 for what promises to be a torrid night of racing at Evans Mills Raceway Park.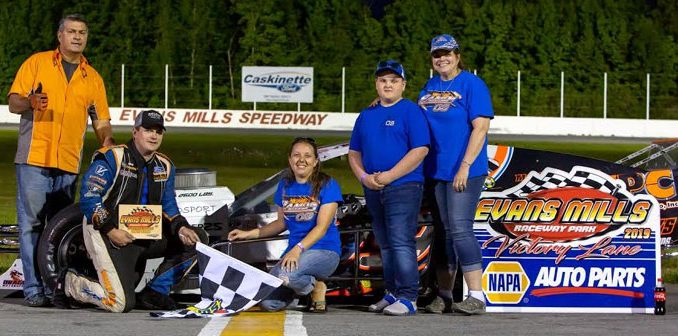 Caskinette Ford Sportsman Modifieds:
| | | |
| --- | --- | --- |
| 1 | 9 | Michael Ramos |
| 2 | 30 | Mason Spencer |
| 3 | 2NY | Tony Pettinelli |
| 4 | 48 | Chuck Meyer |
| 5 | 2X | Terry Gardner |
| 6 | 4 | Steve Fuchs |
| 7 | 6 | Chad Blair |
| 8 | 126 | Anothony Stockman |
| 9 | 6 | Mike Durham |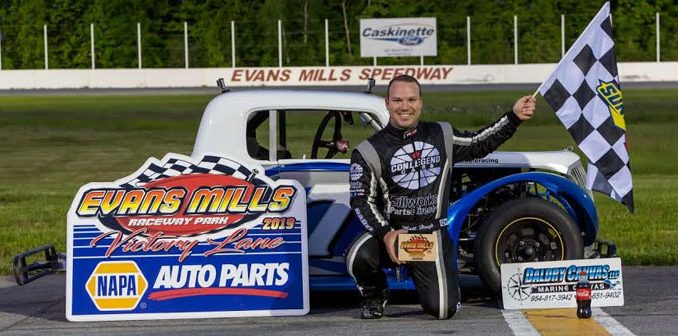 INEX Legends:
| | | |
| --- | --- | --- |
| 1 | 7 | Matt Haufe |
| 2 | 31 | Joshua Marchese |
| 3 | 10 | Chris Malbeuf |
| 4 | 33 | Breanne Gilligan |
| 5 | 97 | Kyle Hoffman |
| 6 | 46 | Zach Anderson |
| 7 | 23 | Cole Perry |
| 8 | 14 | Coleby Felber |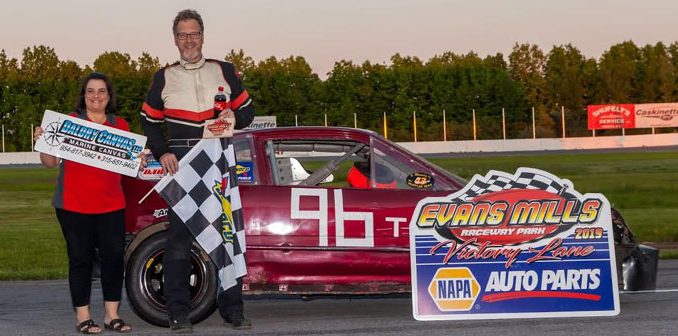 Sport Compact:
| | | |
| --- | --- | --- |
| 1 | 96T | Tim Dunn |
| 2 | 19 | Craig Caskinette |
| 3 | 1v | Josh Verne Jr |
| 4 | 100 | Justin Pope |
| 5 | 32 | Chuck Monica |
| 6 | 2 | JR Durnam |
| 7 | 9 | Colby Goodale |
| 8 | 11 | Tim Verne |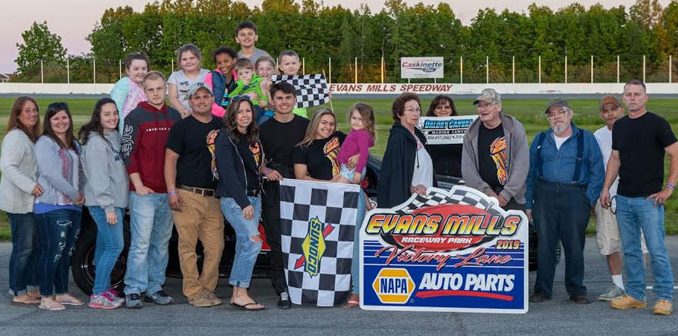 Serv-Pro Thunder Stock:
Josh Verne Jr 1v
Justin Pope 100
Chuck Monica 32
JR Durham 02
Colby Goodale 9