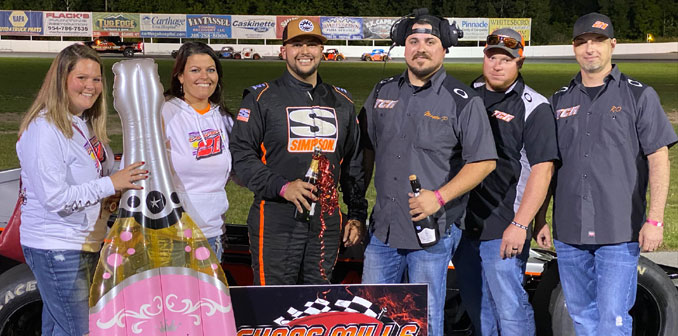 EVANS MILLS, NY – It was an exciting Labor Day weekend at the Evans Mills Raceway Park with many events taking place.
Beautiful weather once again welcomed race fans to the 2nd Annual Race away the Hunger Night. Spectators donated non-perishable food items and health and wellness items, in exchange for a discounted general admission ticket. The turnout was great and all donations will be used to support local school backpack programs.
Evans Mills Raceway Park would like extend a big "THANK YOU" to these businesses and families for their support of the Race Away the Hunger Program; Midway International Logistics, Tops Friendly Markets, Stewarts Shops, Cabot Cheese, Exit 49 Self Storage, American Dairy Association Northeast and John & Donna Timmerman. If that was not enough, race fans were treated to a Froggy 97 Showcase Concert from Nashville Recording Artist, Dallas Remington.
In addition to all of that, EMRP crowned their track champions for the 2021 seasons as well.
Feature winners included, Modifieds-Casey Sykes; Pro Late Models-Rylee Gill; INEX Legends-Coleby Felber; Sport Compacts-Chuck Powelczyk; Thunderstocks-Justin Burns; 4-Cylinder Trucks-Brodie Davis. 2021 Track Champions are, Modifieds-Taylor Caprara; Pro Late Models-Josh Verne Jr.; INEX Legends-Coleby Felber and Sport Compacts-Trever Halladay.
Sid Harmer Jr (#14) and Joel Hargrave (#71) were the pole sitters. Harmer would get the early lead as Rylee Gill (#57) began his ascent using his preferred outside groove. Harmer would be able to hold off Gill as he would take away Gill's line entering the corners. A caution flew on lap 9 for a spinning Hargrave. This would be the break Gill needed. Two laps after the restart, Gill worked the high side around Harmer and would take the lead and claim his 5th win of the season. Harmer would settle for second and Chuck Meyer finished 3rd. Josh Verne Jr. (#1V) would claim the track championship, picking up 3 wins and 8 top 3 finishes in the 2021 season.
Brandon Clemons (#3) and Evan Thomas (#84) led the 4-Cylinder Trucks to green, which had 2 early cautions before completing a lap. On the third restart, Pete Willsie (#01) claimed the early lead. By lap 4 hard charging Brodie Davis (#9D) had completed the pass on Willsie for the lead. 3 laps later, Bob Schory (#33) would get by Willsie to take over second. Davis would go on to pick up his second win of the season, followed by Schory and Willsie. Bob Schory claimed the 2021 Track Championship including his 3 season wins.
The Sport Compacts and Thunderstocks followed next with Joe Pettinelli (#5) and John McCarron (#51) making up the front row. McCarron would be involved in a caution before a lap could be completed in turn 2. On the restart, it was Pettinelli taking the lead, but Chuck Powelczyk (#17) would quickly work his way to second. Pettinelli would be to hold off Powelczyk until lap 14, when Powelczyk got under Pettinelli in turns 3 and 4 to take the lead. Pettinelli had a chance to take the led a Powelczyk worked through lap traffic but could not take advantage. On the final lap, final corner, Pettinelli made contact with Powelczyk, almost turning him around. However, Powelczyk saved it and took home the checker flags. Pettinelli was second and Justin Burns (#11J) finished third, but would be the first Thunderstock, earning his first win of the season. Trever Halladay earned the Sport Compact Track Championships dominating the class with 7 wins and 10 top 3 finishes on the season.
The Caskinette Ford Modifieds ran their 30 laps feature caution free, which was led to the green flag by Corey Trombley (#006) and Casey Sykes (#1NY). Trombley would take the early lead, but Sykes would be faster and try multiple times to get by.
After working several lap on the high side, Sykes found the lead on lap 9 and never looked back. Sykes picked up his first win of the season, after 2 top 5 finishes in the last two weeks. Trombley would finish second, Tony Pettinelli (#2NY) was third, Levi Arthur (#65) finished fourth and Taylor Caprara (#21) earned his 9th top 5 of the season.
Caprara was the model of consistency this season, as every race he entered; he finished inside of the top 10, finishing no worse than 8th. Caprara would be the 2021 Track Champion in his first season driving an asphalt sportsman modified.
The Christman Fuel Service INEX Legends concluded the evening with Chris Malbeuf (#10) and Coleby Felber (#14) making up the front row. On the start it was Coleby Felber taking the early lead. Malbeuf tried to keep it close, but Felber was too strong and went on the claim the victory. Malbeuf finished second and Tyler Christman (#27) finished third. Felber claimed the 2021 Track Championship with his 5 wins and 11 top 10's on the season.
Next Week, Saturday September 11th, Evans Mills Raceway Park welcomes First Responders and Boy Scouts and Girls Scouts. We will have our Caskinette Ford Modifieds, Christman Fuel Service INEX Legends, Excel Tower Service Pro Late Models, and Sport Compacts / Thunderstocks / 4-Cylinder Trucks, skid plate race and Be a Hero Box Car Races. Pit Gates open at 3pm, General Admission at 5pm, Racing starts at 6:30pm. Pit Pass $30, General Admission $12, Military $10, Children 10-17 $6, Under 9 Free!