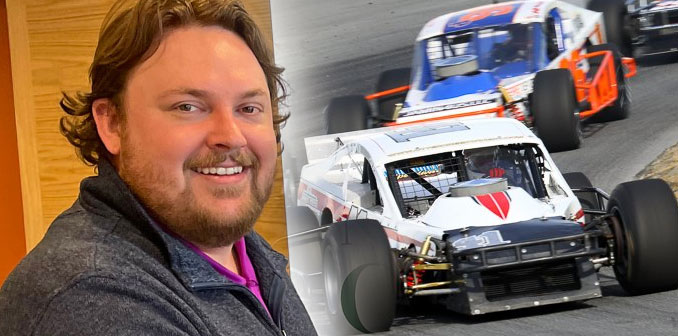 By JAY SHIMEL – EVANS MILLS, NY – Evans Mills Raceway Park announced the arrival of their new General Manager Nick Czerow, a lifelong supporter of motorsports. Czerow, a native of Oswego, NY will help lead EMRP to new heights with the support of facility owners Peggy and Lee Gill.
Czerow, a graduate of SUNY Cortland spent time primarily in sales and marketing with the ECHL's Greenville Swamp Rabbits and local baseball organization the Watertown Rapids before EMRP. Now, in the industry he dreamed of, he looks forward to new challenges. "I moved back to New York in 2020 in hopes to eventually work in motorsports to support and grow the sport I felt most passionate about. Racing has always felt like a family atmosphere to me. Taking in the action from the stands and joking around with people next to you is the best way to spend a weekend."
Anticipating the future he added, "I want to thank Lee and Peggy Gill for this opportunity. We share the same vision for the future of EMRP. As we will continue to add to the fan and driver experience during race season we will explore opportunities in the offseason to utilize the track and provide some great memories for the community."
Under the Gill's ownership, Evans Mills Raceway Park has seen improvements year after year. This made an impression on Czerow immediately, "My first time at The Mills was in 2021 and I was blown away by facility. The bright white paint, clean stands and bathroom, unique gift shop and the bar with games to play were awesome! In the 2022 Opener they were advertising their homemade pizza and I had to try a slice. The menu options were great too. There is already a great fan base that comes weekly and a nice following on social media so I'm looking forward to seeing how many more people want to be a part of this with us."
The racing bug was planted early in Czerow "I'm very proud that I grew up in a family that loves racing. A lot of my favorite moments in life were at race tracks. Moments like a Johnny Gibson's "You wanted the best, you got'em four abreast," or seeing large crowds salute the drivers with their hats before taking the green, or even standing at the top of a grandstand and looking out over hundreds to thousands of campers and RVs knowing you're part of a special event with people that are always happy to make a new friend is sometimes emotionally moving.
"I'm excited to provide a lot of people with their first racing experience. We are close to a lot of families involved with Ft. Drum that may not have come from a traditional racing area or have never been and I hope they feel the love of the community when they check out EMRP. My earliest memory of racing was watching Steve Kinser and Danny Lasoski at Rolling Wheels Raceway fly out of turn four and past us down the front stretch. I couldn't stop drawing pictures of race cars after that. That translated into going to Oswego Speedway and Brewerton Speedway as often as I could and then into starting a tradition of almost a decade of camping at Watkins Glen for NASCAR.
"One of my proudest moments is converting my girlfriend who had never been to a race track before into a fan. I had her stand at the start/finish line about a foot away from the catch fence to watch an Otto Sitterly time trial lap. I think that first fly by hooked her and now she has Joey Logano stickers on her car. I know we can do that at Evans Mills Raceway Park and maybe kids will fill their school note books with drawings of modifieds and legends cars."
Evans Mills Raceway Park has three Saturdays of racing left in the 2022 season and Czerow looks to use those as a starting point. "I'm glad I can be behind the season for the rest of the season. We have some great nights coming up like First Responder's Night, Championship Night, and the John Burr Classic that will give me a better idea of how every area of operations works and what the fan experience looks like during important nights. I'm looking forward to meeting our loyal fans and working with our employees!"
Schedule, ticket, and suite information for Evans Mills Raceway Park's remaining race weekends can be found at http://www.evansmillsracewaypark.com or by calling (315) 323-6033.