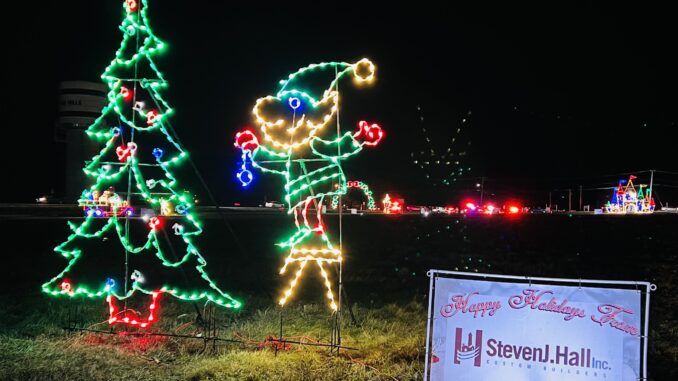 Evans Mills, NY – The inaugural Northern Lights holiday drive-through show at Evans Mills Raceway Park is preparing to host you next week. The new one-mile plus light show is celebrating its opening night on Thanksgiving night starting at 5:00pm. Passes are now available to purchase ahead of time on Evans Mills Raceway Park's website under the Northern Lights tab. The new event is presented by the Bob Johnson Auto Group and NBC Watertown.
Opening on Thanksgiving night will allow families spending the day together to pile into vehicles and cap off their holiday together by taking in the massive holiday displays from snowmen juggling to castles and trees.

Passes are available for single vehicles, busses, and are offered in group rates for businees, orgaizations, or families looking to cover gifts for everyone! Pre-purchasing is available online and patrons can still pay with cash or a debit/credit card in line at the entrance if they choose to. Patrons should expect some wait time at the entrance of Northern Lights.
Displays for Northern Lights will be setup this weekend at Evans Mills Raceway Park. Cars passing by the race track on US-11 will be able to sneak a peek at the progress being made ahead of next week's opening.
EMRP General Manager, Nick Czerow said "It will be a challenge to get everything ready with the incoming snow this weekend but we are up for it. We have a great team between the Gill family and Brandano Displays. Years from now we might be able to look back and say we had feet of snow for the first ever Northern Lights. The snow will really make the difference for patrons driving-through and the lights bouncing off the snow will improve the experience."
Entering Northern Lights will occur on Steinhilber Rd. via the access road leading into the race track. The US-11 entrance will be closed for the duration of the event to limit stopped traffic on that busy path.
Czerow continued, "This week has been really rewarding seeing layouts and marketing materials coming in like posters, info cards, and commercials with partners. We will be looking for other businesses in the area willing to help hang our posters to let everyone know there is a new experience waiting for them to become their new holiday tradition."
"It is a great feeling being able to provide something fun for North Country families and especially members of Ft. Drum who might not know where to look for entertainment yet."
To follow progress of Northern Lights or to purchase your vehicle passes ahead of time, follow Northern Lights at Evans Mills Raceway Park, and Evans Mills Raceway Park on Facebook and visit https://evansmillsracewaypark.com/northern-lights-holiday-light-show/.
For more information about sponsorship, group rates, or single passes contact Nick Czerow at (315) 591-2771 or emrpgm@yahoo.com