Northern Lights is a community supported holiday light display show where patrons can drive their vehicle through the experience. The North Country now has a new tradition for families and individuals to take in the holiday season together. Northern Lights is an easy event to take in when you are looking for things to do in your area after shopping, or visiting with family!
Open Weekly Thursday – Sunday
Opening Night: Thanksgiving November 23, 2023
Final Night: New Year's Day January 1, 2024
Single Carload Pricing: $20 (1-16 people)
Minibus Pricing: $30 (17-25 people)
Bus/Motorcoach Pricing: $75 (26+ people)
Hours of Operation
Thursday: 5:00pm – 9:00pm
Friday: 5:00pm – 9:00pm
Saturday: 5:00pm – 9:00pm
Sunday: 5:00pm – 9:00pm
Closed: Monday – Wednesday


For the most up to date news on Northern Lights follow us on Facebook.
For sponsorship, community partnership opportunities, and group pricing please contact Nick Czerow at  emrpgm@yahoo.com or (315) 591-2771.
Things We would like you to know:
WE ARE SUPER EXCITED YOU ARE HERE! THAT WE, AND OUR PARTNERS COULD BRING THIS NEW TRADITION TO THE NORTH COUNTRY ~ WE appreciate each

and every one of you! We hope that NORTHERN LIGHTS is an opportunity to create new MEMORIES with the ones you LOVE during the HOLIDAY SEASON!!!!!
In order to best control traffic flow and possible congestion, PLEASE AVOID ANY LINES OR WAITING ON US RT 11~ WE ASK THAT ALL PATRONS ENTER STEINHILBER ROAD FROM THE NORTH ENTRANCE ON ROUTE 26 and follow Steinhilber around to the entrance.  Our NYS ROUTE 11 entrance will be CLOSED TO ALL TRAFFIC.  Please see attached map: We appreciate your cooperation with this as we wish to avoid ANY TRAFFIC INCIDENCE~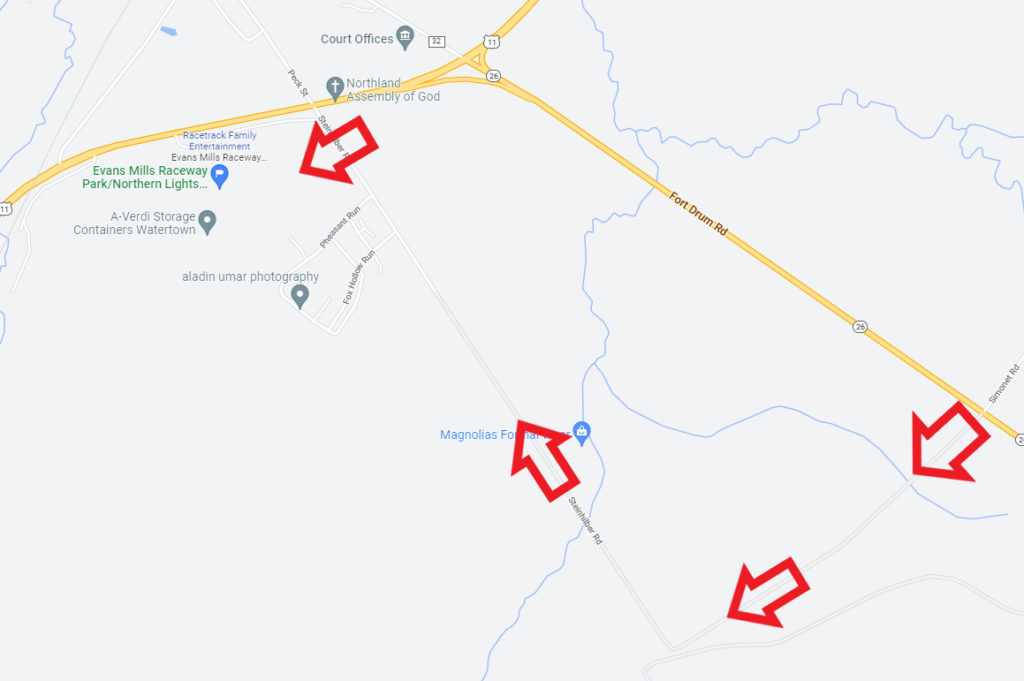 Although you can pre-purchase your tickets in advance online, Please be prepared for possible wait times and be thoughtful of those ahead of you enjoying the scenes.

Tickets are also available at our onsite box office otherwise known as

EVAN & MILLIES HOUSE

!!!! We gladly accept cash or card. Card transactions will have some fees.

Northern Lights is a DRIVE THRU EVENT and ask that you please remain in your vehicles for the duration of the experience.

Please turn off your headlights to further enhance the spectacular light experience.  If you need assistance turning off your headlights, please notify one of our staff, we will be happy to assist you.

Please "check in" to Northern Lights At Evans Mills Raceway Park on

Facebook

and be sure to tell all your family and friends about it, or better yet, BRING THEM BACK WITH YOU!!!! 🙂

We have no restroom facilities, please plan ahead~

WE WILL BE HERE FOR YOU 

CHRISTMAS EVE

CHRISTMAS NIGHT

NEW YEARS EVE

NEW YEAR NIGHT
HAPPY HOLIDAYS FROM THESE AMAZING PARTNERS