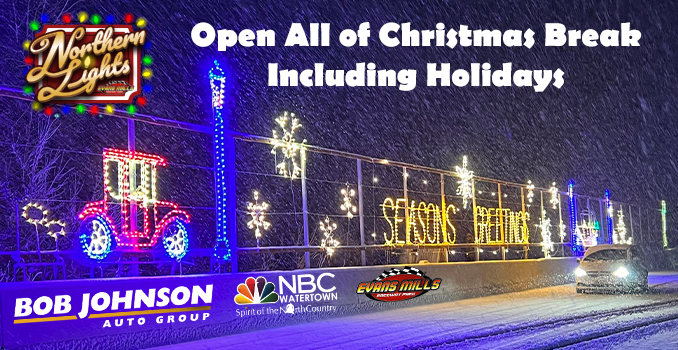 EVANS MILLS, NY – The Northern Lights at the Evans Mills Raceway Park Presented by the Bob Johnson Auto Group and NBC Watertown have been lighting up the North Country sky every Thursday through Sunday night through December. In response to positive feedback from the community, Northern Lights will now be open every day of the week 5:00pm – 10:00pm of Christmas break starting this Thursday December 22nd in addition to being open Christmas Eve & Day and New Year's Eve & Day.
Northern Lights' final night open is January 1, 2023. Evans Mills Raceway Park general manager Nick Czerow said of the upcoming 11-day stretch, "We have certainly been feeling the love from the community. We see it all over social media and have a lot of people returning for second and third visits. We saw that we can accommodate more families by being open all week when students are out of school, so we added Monday, Tuesday, and Wednesday. "
Owner Peggy Gill, proudly announced, "With busy schedules and challenging weather conditions we extended our schedule to be sure everyone had the opportunity to experience this new feel-good event. With the lights glowing off the snow from last weekend, our show is at peak amazement right now."
Czerow added "The response has been great in our first year! Froggy 97 helped us out by programming Christmas music on their station to play while we are open. We have had visitors coming from Canada, the Adirondacks, and Massena. A lot of people are adding a stop at Northern Lights to their trip to Watertown to shop as well."
Northern Lights at the Evans Mills Raceway Park is made possible by all their dedicated sponsors. The Evans Mills Raceway Park asks to please consider shopping with our sponsors this holiday season to support those that invest in the quality of life for the North Country.
Tickets for Northern Lights are available online through the track's website www.evansmillsracewaypark.com or by purchasing on-site at the cozy cottage. Carloads are $20 and Northern Lights accepts cash and cards on-site.
For more information, or group rates and bus tickets contact the Evans Mills Raceway Park at (315) 323-6033 or emrpgm@yahoo.com