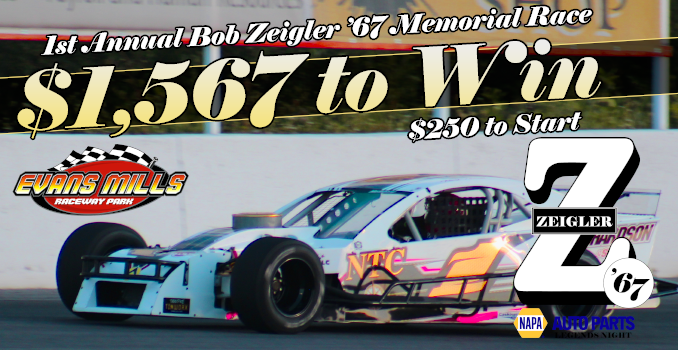 EVANS MILLS, NY – A new tradition will begin in just a few weeks. On June 3rd, 2023 the Evans Mills Raceway Park will host the first annual Zeigler '67 Memorial Race on Legends Night Presented by NAPA Auto Parts. The memorial race will honor EMRP founding brother Bob Zeigler who brought the Evans Mills Speedway into existence in 1967 with the help of his brother Dick Zeigler. Bob Zeigler, of Boonville, NY passed away earlier in 2023 and this weekend is made possible with the help of the Zeigler family.
The Zeigler '67 Race is a 67-lap Caskinette Ford Sportsman Modified race rewarding the winner $1,567.00. The race will pay $250 to start the feature race. The decision to race for 67 circuits is to represent the tracks first year in existence. There will also be numerous bonus payouts for different scenarios in the feature, like a hard charger award.
General manager Nick Czerow stated, "When we heard of Bob's passing, we started discussing the idea of a memorial race. When Bob's son Scott Zeigler reached out only days after our initial conversation with the same concept it was a sign that dedicating a race in his honor was the right thing to do."
Czerow continued, "We had not had a chance to know the Zeigler family until Scott reached out. We learned that Scott still comes to a lot of races and I'm glad we got a chance to meet him. It was nice seeing Scott last week for our Mother's Day show and being able to catch up with him. I'm looking forward to a lot more of that with the Zeigler family!"
Of his father's new memorial race Scott Zeigler commented "my father would be honored and humbled to know his accomplishments in racing as a driver and promoter will be memorialized in an annual race at the speedway he was instrumental in building." Zeigler added, "my father was dedicated to his vision of building the speedway, investing an enormous amount of blood, sweat, tears, money, and family time into its construction. On a regular basis after a full day of work at the garage, dad would make the 100-mile roundtrip to the track to get a few hours of work in before dark. His vision was realized on opening day in August of 1967, the speedway was up and running within two years."
Bob Zeigler is a member of the Dirt Motorsports Hall of Fame located in Weedsport, NY. Scott believes the inscription on his plaque that reads "Recognized early for his driving talent, respected late for building a speedway, he authored a short track success story in between" fits him perfectly.
The increased racing purse for the Zeigler '67 is possible thanks to NAPA Auto Parts and a personal donation from the Zeigler family. Scott continued, "The Zeigler family is forever grateful to EMRP for acknowledging and renewing our father's legacy with a memorial race well after being out of the limelight for many years. Sharing the night with legendary drivers makes for a very special evening for all to revive or reclaim cherished memories from the golden age of stock car racing."
"We truly appreciate the Zeigler family sharing their vision and support of this race. It is also very fitting that NAPA Auto Parts is our presenting partner for this weekend. NAPA Auto Parts has provided tremendous support of the Gill family and the Evans Mills Raceway Park. It has been great working with Ryan Nowitzke to bring these new events to life in 2023," Czerow stated.
Scott concluded by saying, "my father quit racing just as I was reaching the age of interest, however that void was quickly filled with the racetrack. My cousin and I had the best job a young man could have, working in the pit shack Charlie Brown and Glenn Traxel, stamping the drivers' hands with a pit pass. Having the opportunity to hear tall racing tales and view the race cars up close was priceless. One vivid memory I have was when Mr. "Bung" Farney of the famed number 7-11 would say almost weekly, "I've got the big motor in it this week." It still makes me smile 50 years later."
Czerow finished by thanking Zeigler for his help connecting the EMRP owner with the history of EMRP. "After Scott reached out, we set up a meeting to discuss this concept. He came to our office loaded with old photos of the construction of the racetrack and some great shots of early racing in Evans Mills. He brought old programs with names of all the legendary drivers and of course John Burr was seen in all of them! I'm really looking forward to this weekend and being able to share some of the history of the track with the community. I'm also proud that we have another increased distance race for fans with an increased purse for the drivers."
For more information on the Zeigler '67 and Legends Night Presented by NAPA Auto Parts follow the Evans Mills Raceway Park on Facebook. For ticketing and sponsorship information contact us at (315) 323-6033 or emrpgm@yahoo.com