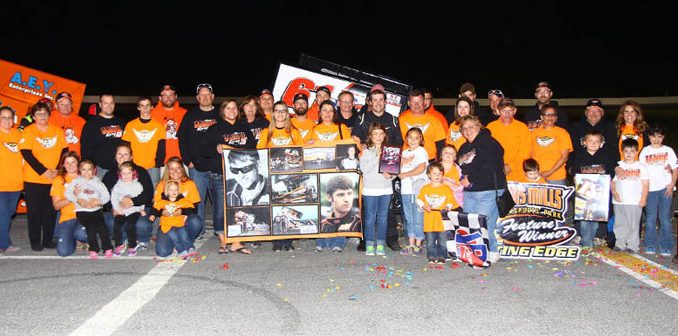 By: DEAN REYNOLDS / EMPIRE SUPER SPRINTS – SYRACUSE, NY – Each year the Lucas Oil Empire Super Sprints (ESS) trade the dirt tires for asphalt slicks for one race. This year the event will move back to the original site at the Evans Mills Raceway Park which is under new ownership of Lee and Peggy Gill.
On Saturday, Aug 17thth the event will be the Kevin Ward Jr. Memorial Asphalt Spectacular. It will also post the largest purse to win of any asphalt events held in the past with $4,000 awaiting the winner of the 25 lap A-Main.
With $2,000 set aside for the runner-up, $1,000 for third and $500 just to take the green, many of ESS' biggest names will be on hand to give the asphalt a whirl. There is also lap money being offered and is already over the $600 mark and should top $1000.
Jeff Cook has a lot of friends and fans in the North Country of NY and has already done some laps at Evans Mills in promotion of the event. Matt Tanner, Shawn Donath, Kelly Hebing, Parker Evans, Dave Axton, Dylan Swiernik, Denny Peebles, Kyle Moffit, Tommy Wickham, Chad Miller and others are expected to be on hand.
Fans will see the sprint cars compete in heat events and then a special autograph session right before the 25 lap A-Main takes the green flag at the 3/8ths mile oval. Pit Gates open at 4, Grandstands at 5:00 with racing set to begin at 6:30.
The ESS merchandise trailer will also be on hand with the new line of 2019 apparel.
Saturday night Aug 17th is the date, the Evans Mills Raceway Park will be the site, the $4,000 to win Kevin Ward Jr. Asphalt Spectacular!
Past Lucas Oil ESS Asphalt Winners:
June 8, 2013 – Kevin Ward Jr. – Evans Mills
June 7, 2014 – Lee Ladouceur – Evans Mills
June 6, 2015 – Parker Evans – Evans Mills
Aug. 27, 2017 – Matt Billings – Autodrome Chaudiere
Aug. 26, 2018 – Steve Poirier – Autodrome Chaudiere