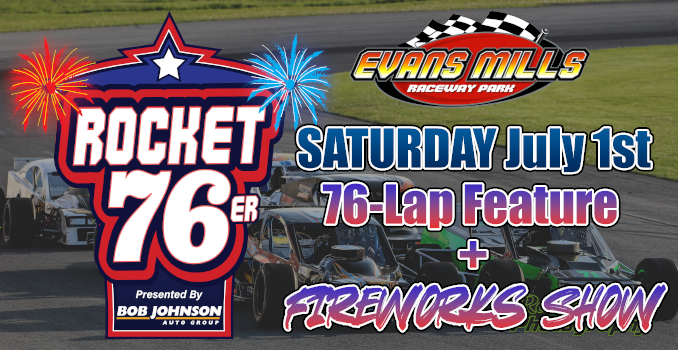 EVANS MILLS, NY – A new premier race weekend with a fireworks show has been added to the Evans Mills Raceway Park calendar with help from Bob Johnson Auto of Watertown and Pulaski. The new Rocket 76er weekend will be Saturday July 1, 2023. The order of events for that night will consist of a 76-lap race for the Caskinette Ford Sportsman Modifieds in honor of the year 1776. There will also be weekly division action with the Excess Storage Pro Late Models, Christman Fuel Service INEX Legends, Sport Compacts, Thunderstocks and another round of Spectator Races during intermission. The night will wrap up with a 4th of July post-race fireworks show conducted by Majestic Fireworks.
The weekend being presented by Bob Johnson Auto of Watertown and Pulaski is the fourth installment of major schedule improvements including the Zeigler '67 race presented by NAPA Auto Parts, the Coca-Cola Watertown 4-Banger Nationals, and the expansion of the John Burr Classic Weekend. This night will also be one of two post-race fireworks shows. The other fireworks show is September 15th as part of the 4th annual John Burr Classic.
If you are looking to participate in the spectator races with your street vehicle. Please bring a helmet, registration paperwork, and sign-up at the box office on race night. The winner will receive a $100 gift card to participating NAPA Auto Parts – Gillee's Auto, Truck, and Marine locations.
The Rocket 76er weekend will give the North Country an opportunity to get their fireworks fix on 4th of July weekend and get a great night of entertainment on the track. Fort Drum families are encouraged to partake as EMRP is located right next door to post.
For more information on spectator races, reserving suites, or tickets contact EMRP at (315) 591-2771 or emrpgm@yahoo.com