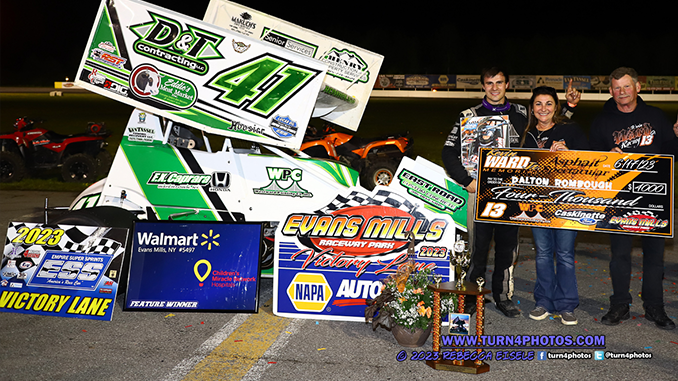 Evans Mills, NY- Despite cloudy and rainy conditions early, race fans came out in droves to the Evans Mills Raceway Park for the annual Kevin Ward Jr. Memorial Asphalt Spectacular with the Lucas Oil Empire Super Sprints.  The skies opened up just after Pre-Race ceremonies, delaying the event by 90 minutes.  This proved to be the only slow times as all race cars turned some of the fastest laps and best racing of the year.  The parking lot was full to US Rt 11 as race fans stuck out the early rain and drove the 50/50 over $1300, the largest of the year.  During intermission the stars and cars of the ESS greeted everyone with the fan favorite autograph session on the front stretch.  EMRP also awarded the Kevin Ward Jr. Legacy award to Ryan Larkins, from Lowville Academy and the Howard G. Sackett Technical Center in Glenfield, NY.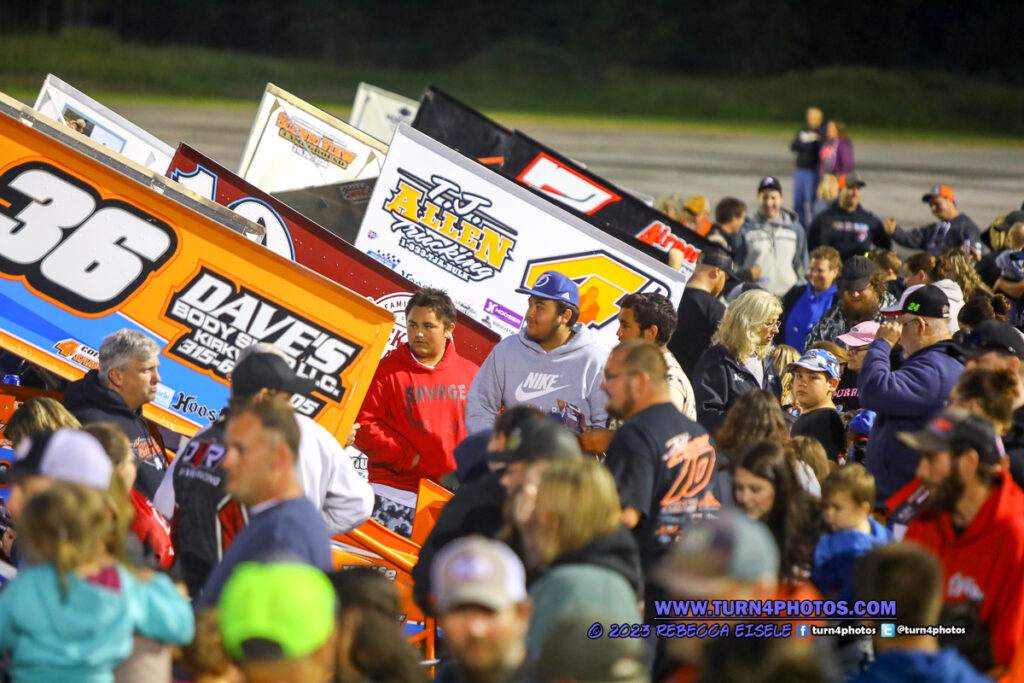 In a night presented by Caskinette Ford in Carthage, NY and the Evans Mills Walmart, drivers put in a team effort to help raise $1,908 to benefit the Children's Miracle Network of Samaritan Medical Center in Watertown, NY. Walmart of Evans Mills orchestrated a major prize raffle, dunk tank, and pie in the face contest. CMN family, the Cabrera's were in attendance to inform the fans of the importance of these hospitals and to enjoy a night of racing.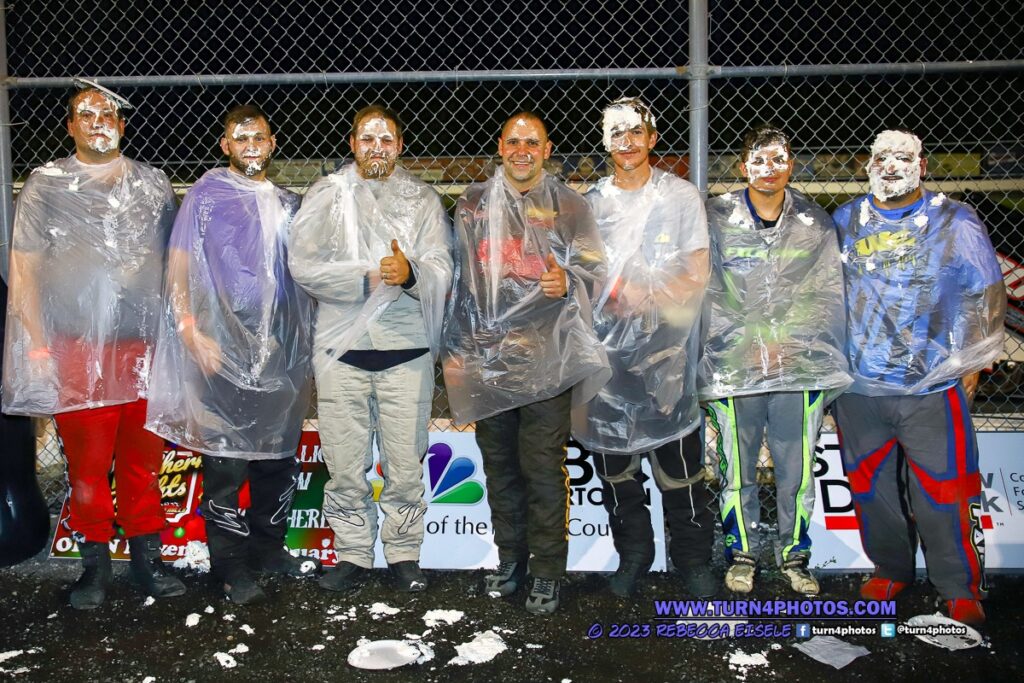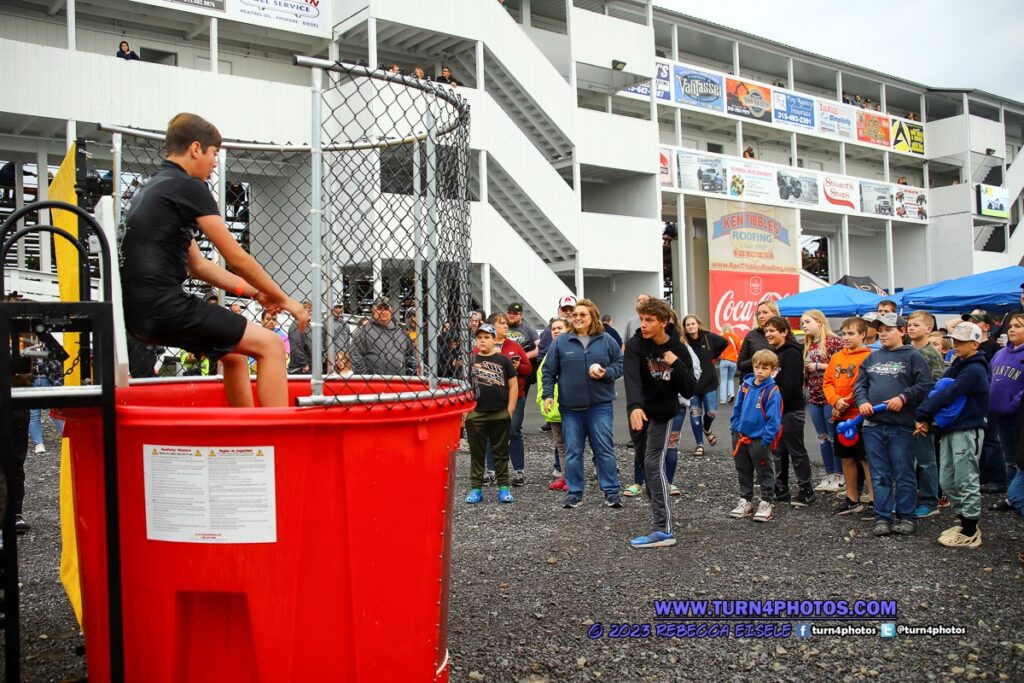 The Excess Storage Pro Late Models kicked off the features for the evening as Chuck Meyer and Tyler Papin made up the front row.  Meyer would be the class of the field as he led all 15 caution free laps.  Rylee Gill quickly found himself in the second but could not chase down Meyer.  Meyer won his first feature of the year, followed by Gill and Tyler Papin. Feature: 1) Chuck Meyer, 2) Rylee Gill, 3) Tyler Papin, 4) James Kiah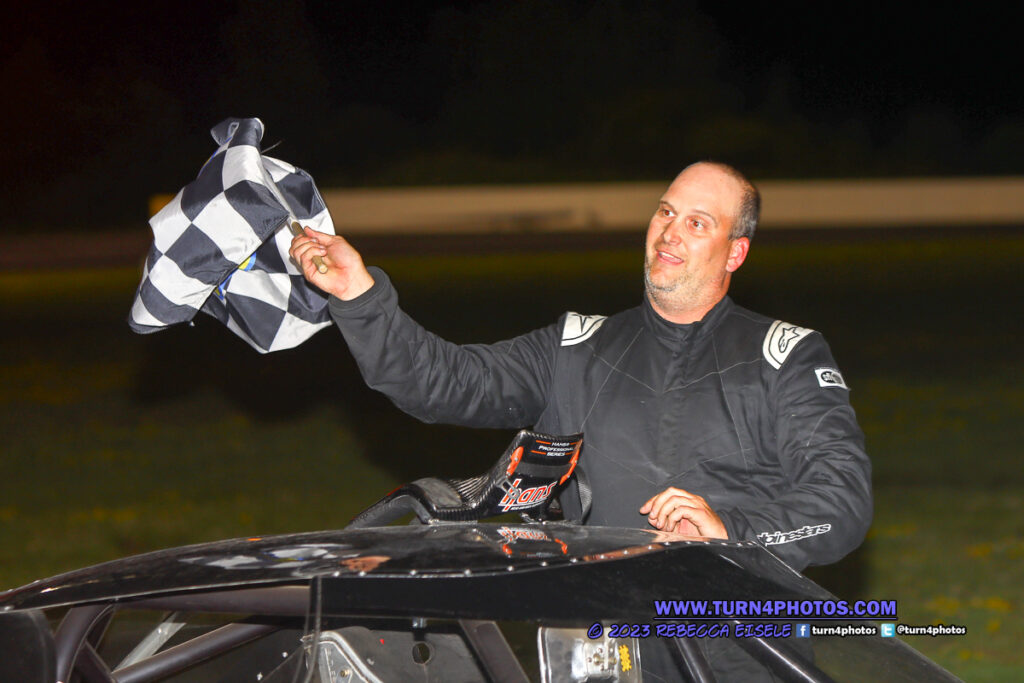 Scott Dinzler and Kaden Rogers were the pole sitters for the 35-lap Caskinette Ford Sportsman Modified feature.  The front row would struggle on the start as Joel Hall found the low lane to lead the first lap.  Hall would be strong early, leading the first 17 laps before the first caution flew for a spinning Kevin Warren.  Hall would maintain his lead on the start as Rogers would keep pace until the second caution flew on lap 20.  On the restart, Hall and Rogers elected to start on the front row as Joe Papin started third, up from his 8th starting position.  Papin would get by both leaders and take control of the race.  Kreig Heroth quietly worked his way into the second position, gaining eight spots from the initial start.  Papin turned in consecutive fast laps keeping Heroth behind him.  The final caution slowed the field on lap 32, setting up a 3-lap shootout.  Heroth couldn't get by Papin in the closing laps as Papin went on to score his first career modified victory.  Heroth crossed the line in second, followed by Bryce Bailey, Andre Roggie and Jeff Pringle. Feature: 1) Joe Papin, 2) Kreig Heroth, 3) Bryce Bailey, 4) Andre Roggie, 5) Jeff Pringle, 6) Kaden Rogers, 7) John Ramsey, 8) Joel Hall, 9) Geoff Sharkey, 10) Scott Dinzler, 11) Tony Pettinelli, 12) Brad Winters, 13) Kevin Warren, 14) Matt Sharkey, 15) Levi Arthur, 16) Anthony Pettinelli, 17) Jason Rarick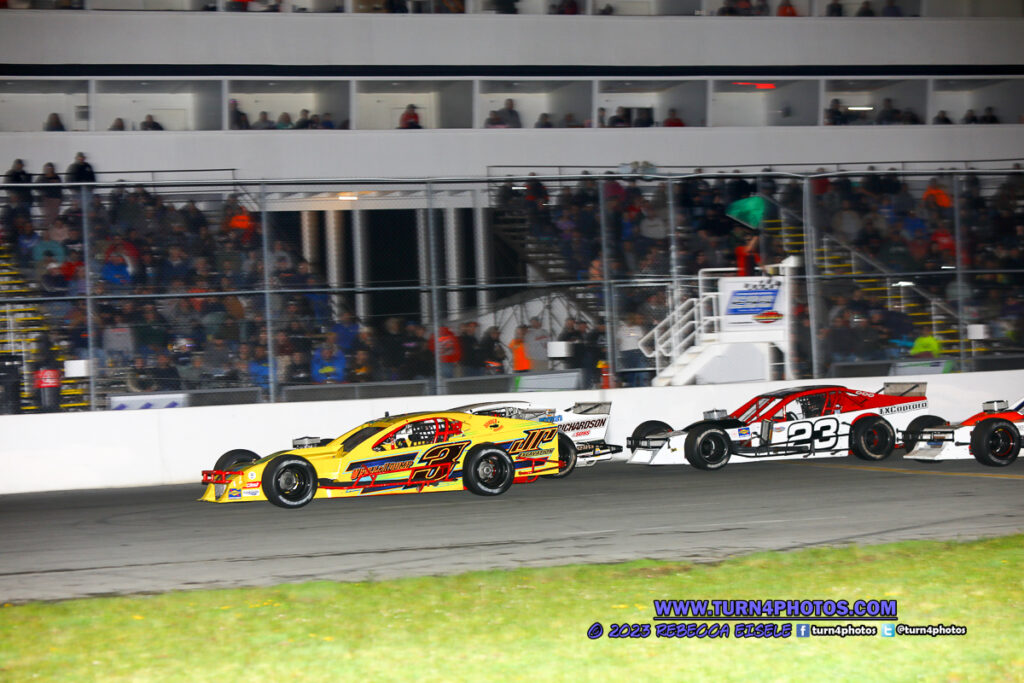 The Lucas Oil Empire Super Sprints took to the track to do battle for 25 laps and $4000.  Dalton Rombough and Kelly Hebing started on the front row for the only asphalt race on the ESS Schedule.  Rombough quickly showed his muscle and dominated the opening laps.  The former INEX Legend race winner at EMRP found the fast lane and quickly found lap traffic by lap 9.  Hebing would do her best to keep Rombough in her sight, as her dad, Chuck Hebing would settle into third.  The field was slowed by only one caution, as local favorite Jeff Cook and Tyler Cartier came together on the frontstretch, ending the night for both drivers.  On the restart, Kelly Hebing did her best to maintain Rombough's pace, but it wouldn't be enough.  Rombough cruised to his first ever 360 Sprint Car win.  "This race is for a special person, I couldn't ask for a better car and better people around me," said an emotional Rombough in victory lane. "Before that final restart, I knew my car was nearly perfect, I couldn't ask for a better car and was just hoping to be able to hit my marks."  Kelly Hebing would have to settle for second, last year's winner Danny Varin finished third, followed by Chuck Hebing and Matt Farnham. Feature: 1) Dalton Rombough, 2) Kelly Hebing, 3) Danny Varin, 4) Chuck Hebing, 5) Matt Farnham, 6) Dylan Swiernik, 7) Chase Moran, 8) Denny Peebles, 9) Zach Burd, 10) Logan Crisafulli, 11)Tyler Cartier, 12) Jeff Cook, 13) Matt Tanner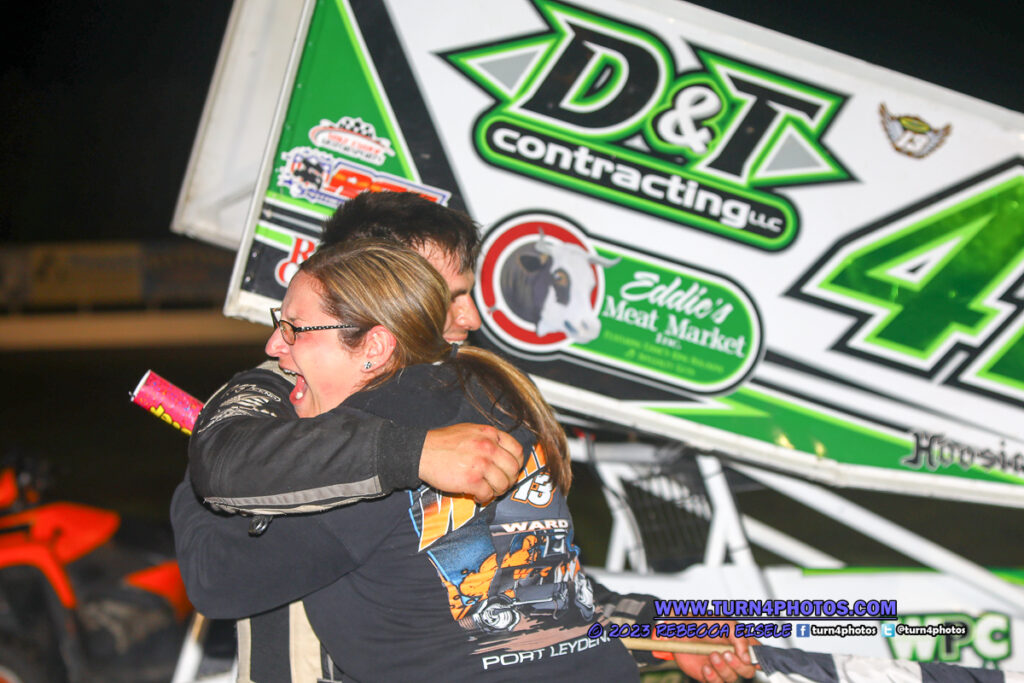 In one of the most exciting features of the evening, Brody Beckwith and Brayton Malbeuf started on the front row for the Christman Fuel Service INEX Legend feature.  Brayton Malbeuf would lead the first 6 laps after two early cautions and Breanne Gilligan would be in second.  Last week's winner, Camdin Cook would pass the leaders on the restart and pace the field.  By lap 8, Chris Malbeuf would find himself in the second position.  Exiting turn 4, Malbeuf would make contact with Cook, sending Cook to the back of the field.  Malbeuf would withstand pressure from Gilligan for the next 6 laps but would maintain his lead.  Gilligan would brought out the final caution on lap 14, with one lap remaining.  Malbeuf would start on the inside of row one with Kyle Hart to his outside and Camdin Cook had recovered to start third.  On the restart, Cook would try to get the jump on the inside of turn 4, making contact with Malbeuf.  Both drivers would be relegated to the back of the field.  This allowed Kyle Hart to pick up his first win of the season.  Cody Draper finished a career-high second and Brayton Malbeuf finished third. Feature: 1) Kyle Hart, 2) Cody Draper, 3) Brayton Malbeuf, 4) Brody Beckwith, 5) Cole McFadden, 6) Breanne Gilligan, 7) Evan Thomas, 8) Chris Malbeuf, 9) Camdin Cook, 10) Jayden Hall, 11) Devin Thornton.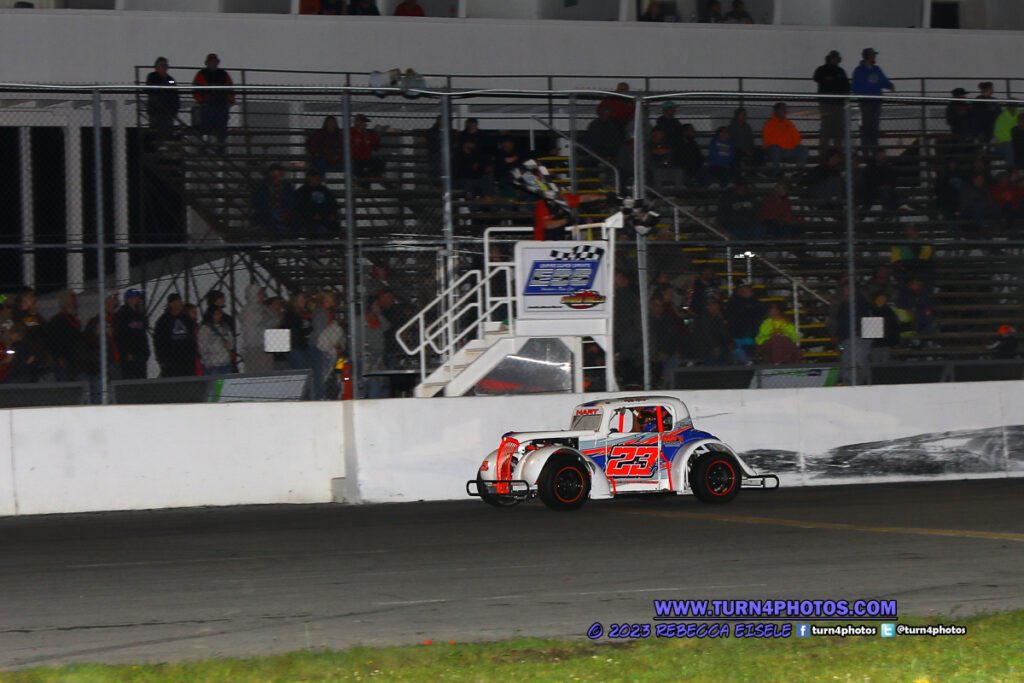 The final feature of the evening was the Sport Compacts and Thunderstocks with Chuck Powelczyk and Jock Symonds leading the field to green.  Nobody could catch Symonds as he quickly built up a healthy lead over Joe Pettinelli, making his first start of the year.  Pettinelli would bring out the only caution on lap 7.  On the restart, Symonds again built his lead back up to over 9 seconds on second place Justin Coachman.  Kevin Greenfield would find himself in third, looking to maintain his perfect streak.  In the closing laps, Greenfield would get by Coachman for second and Mike Greenfield would be sitting in fourth.  Exiting the final turn Coachman made contact with Kevin Greenfield, ending Greenfield chances to win his 6th in a row.  Symonds would cruise to finish first, followed by Coachman and Powelczyk in the Sport Compacts. However, following the race, Symonds' car would be disqualified removing the win. Mike Greenfield would win his first Thunderstocks feature of the year, with Ryan Wurtz and Francis White rounding out the top 3. Thunderstock Feature: 1) Mike Greenfield, 2) Ryan Wurtz, 3) Francis White, 4)David Liscum, 5) Tim Greenfield, 6)Kevin Greenfield, 7) Matthew Marcinko, 8) David Paige, 9) Mystery Man
Sport Comact Feature: 1) Jock Symonds (DQ'd), 2) Justin Coachman, 3) Chuck Powelczyk, 4) Joe Pettinelli, 5) Sam Curcie, 6) Mike Durham, 7) Bridget DeMarse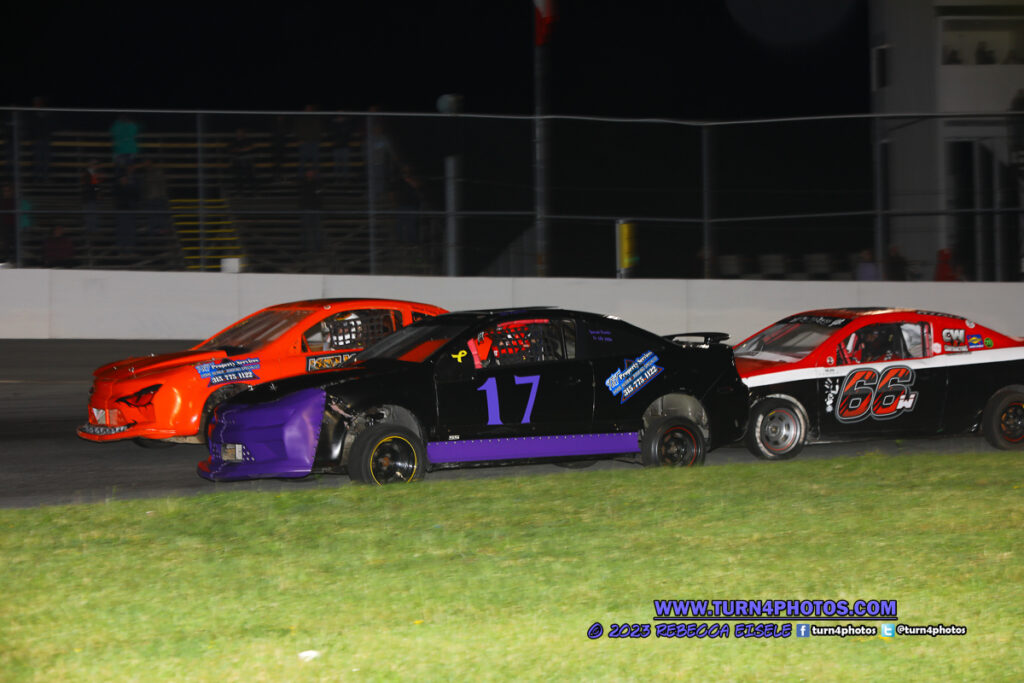 Next weekend EMRP celebrates the Class of 2023 with the New York State Superstocks.  The Caskinette Ford Modifieds, Excess Storage Pro Late Models, Christman Fuel Service INEX Legends and the Sport Compacts and Thunderstocks will also be in action.  Pit gates open at 3pm, General Admission at 5pm and racing starts at 6:30pm. Pit pass $35, Adults $18, Military $16, Children 10-17 $13 and under 9 free with paid Adult.