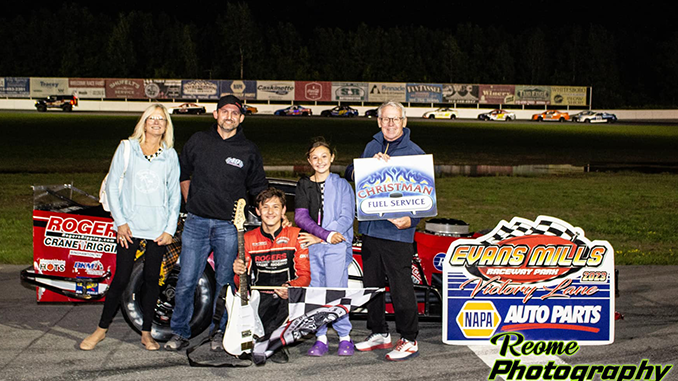 EVANS MILLS, NY – The Evans Mills Raceway Park returned to racing action Saturday August 19th after being rained out the week before. Christman Fuel Service and the Tyler R Christman Foundation were the presenting sponsors of CDL Truck and Family Autograph Night. The event would see the return of Tyler Christman's INEX Legends car in the midway, hundreds of fans on the track, and a first time feature winner. The Classic Asphalt Modifieds also made their second appearance of the year with a strong field of cars.
Intermission was filled with cars, candy, and fans as the pits emptied onto the track for family autograph night. Fans were able to meet their favorite EMRP drivers and had a chance to meet the C.A.M.S. drivers and some new faces Chris Piasecki, Joey VanLare, Justin Pope, and Collin Bauten. Harlan Heroth displayed his slingshot at speed for a few laps as well.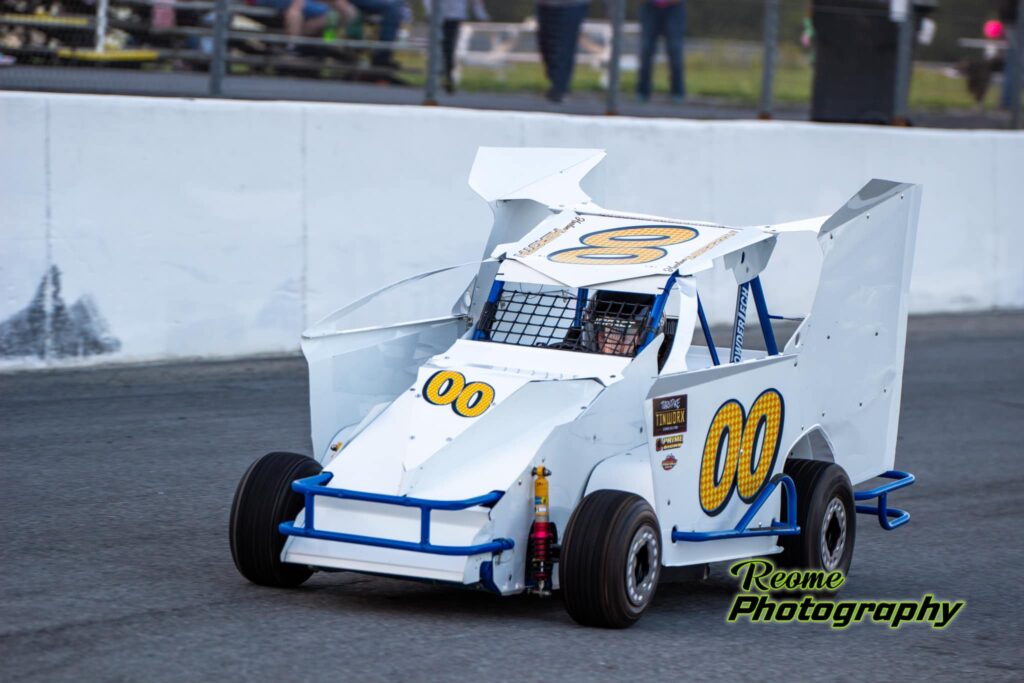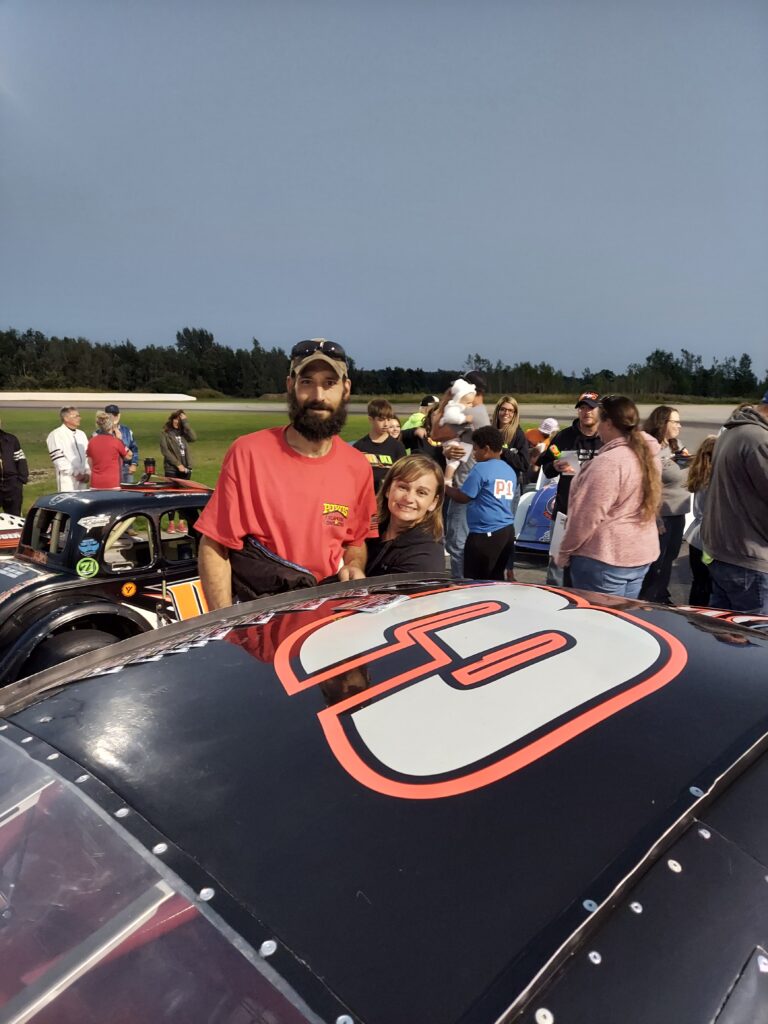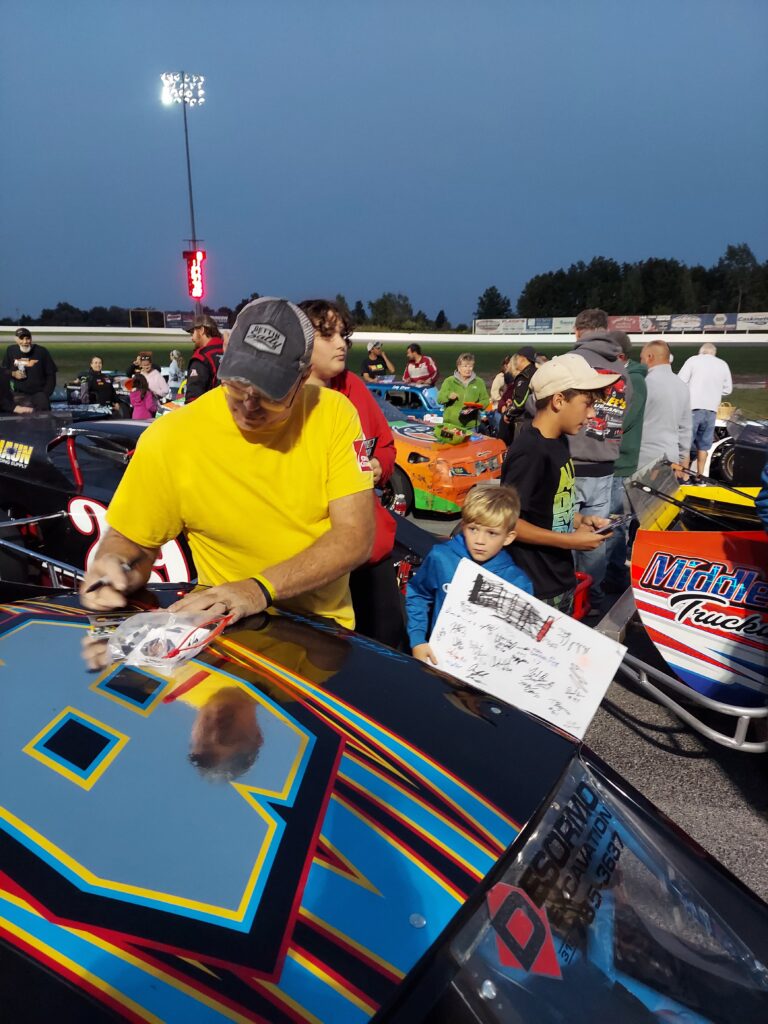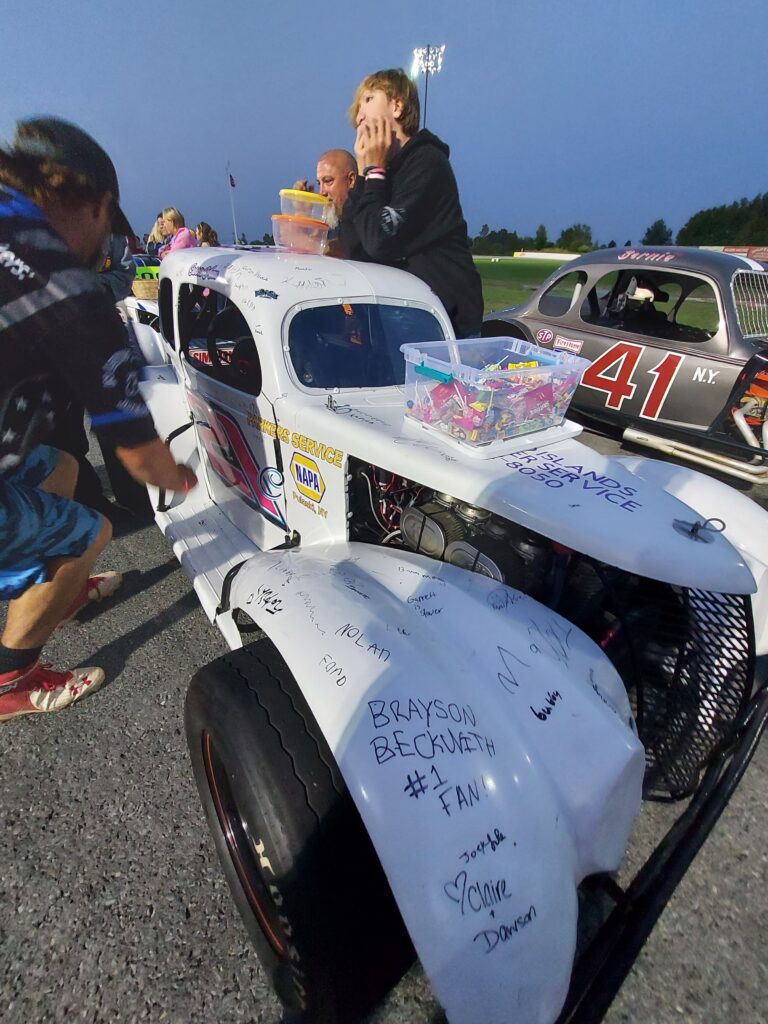 Feature racing was started by the Classic Asphalt Modified Series and their 15 lap feature. Side by side racing made for an exciting race from start to finish. The field included competitors Erik Gall, Tim Janes, Dennis Gervais, Dave Shay, Tim Byrnes, Mark Tychoniewicz, Bob McCanney, Scott Gall, and Bob Ripley. Erik Gall was able to stay ahead of the field and bring home the #16 car to victory lane.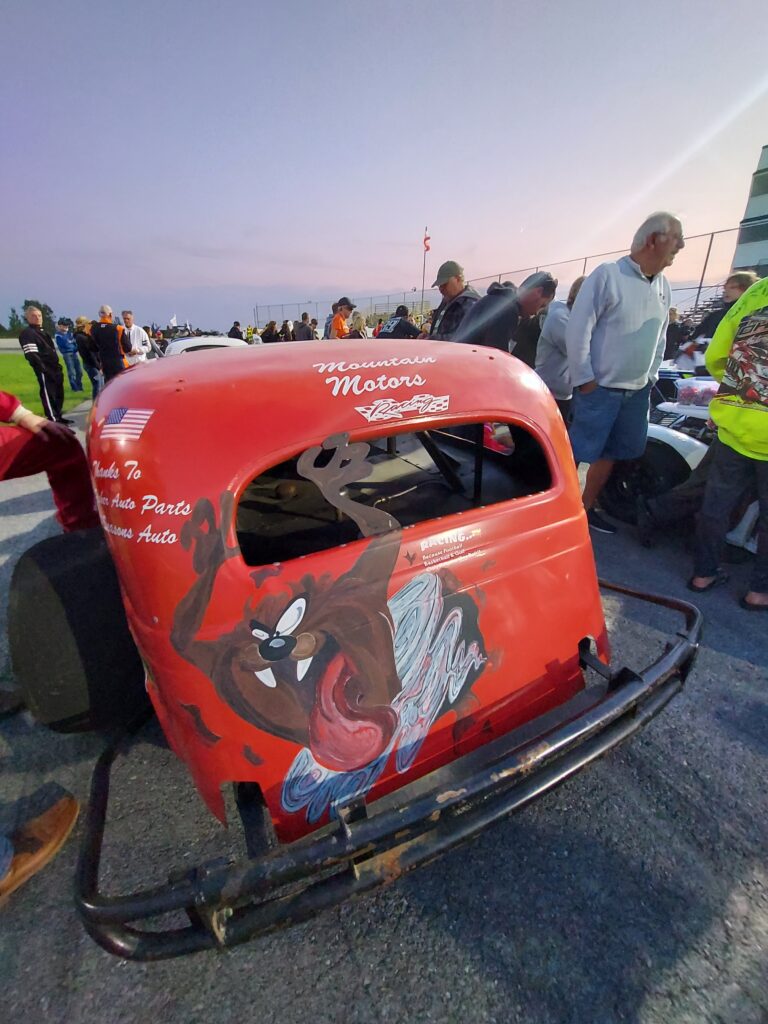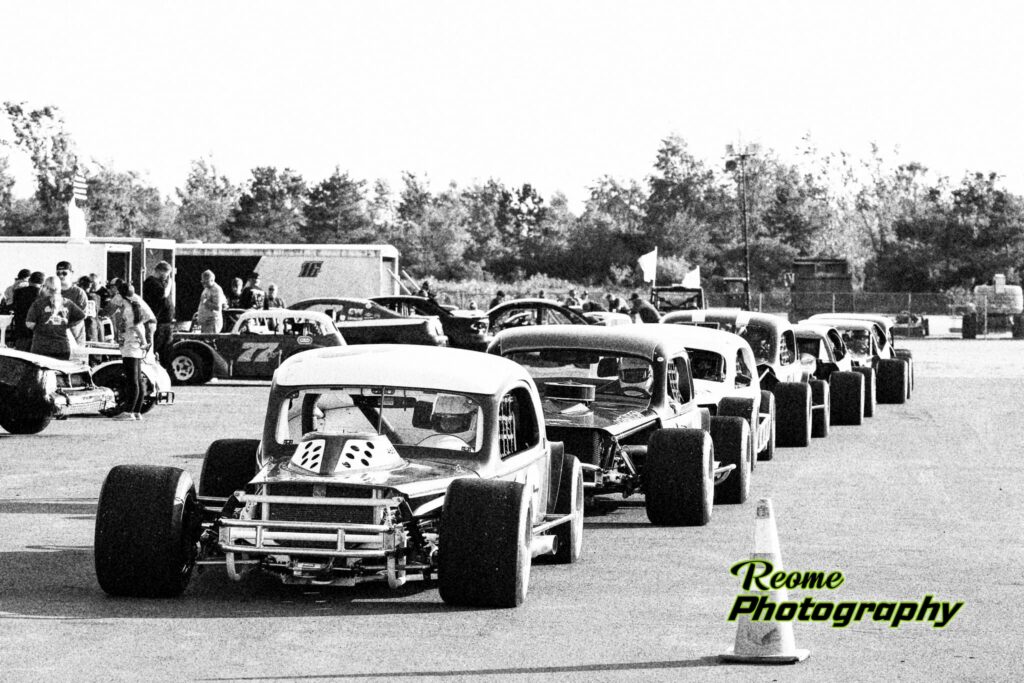 The Excess Storage Pro Late Models took the green flag next but an unfortunate tangle left Chuck Meyer, Tyler Papin, and James Kiah unable to continue one lap into the feature. A decision was made by EMRP to postpone the rest of the feature until the end of the night to allow those teams to fix their damage and attempt to return. Later that night, it was determined that the feature for the Excess Storage Pro Late Models would be moved to another date for completion. Feature Results: Postponed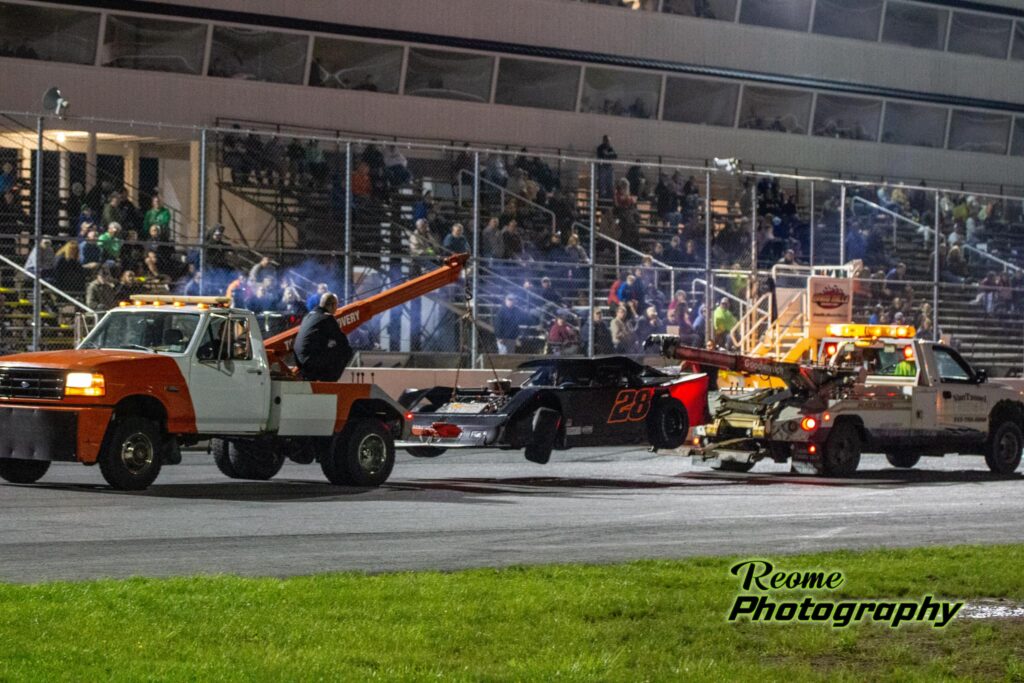 The Christman Fuel Service INEX Legends were next up. The feature started with some new paint schemes in the field including the 16P of Clark Summit, PA's Chris Piasecki, the new Little Tikes Cozy Coupe influenced 77W of Kyle Wurtz, and the 21C of Carrie Ann Carr which was autographed by fans during intermission. Devin Thornton and Camdin Cook would take the field to Brady Berry for the green flag. Thornton would stay out front for a while and it appeared as if he may be on his way to his second win of the season. However after cautions bunched up the field, Chris Malbeuf and Kyle Hart found their way to the front. Malbeuf would work his way to the lead and protect it the rest of the way. Camdin Cook would maintain a strong run for a third place finish. Feature Results: 1) 10M Chris Malbeuf, 2) Kyle Hart, 3) Camdin Cook, 4) Joel Hall, 5) Devin Thornton, 6) Cody Draper, 7) Brayton Malbeuf, 8) Jayden Hall, 9) Chris Piasecki, 10) Evan Thomas, 11) Carrie Ann Carr, 12) Brody Beckwith, 13) Kyle Wurtz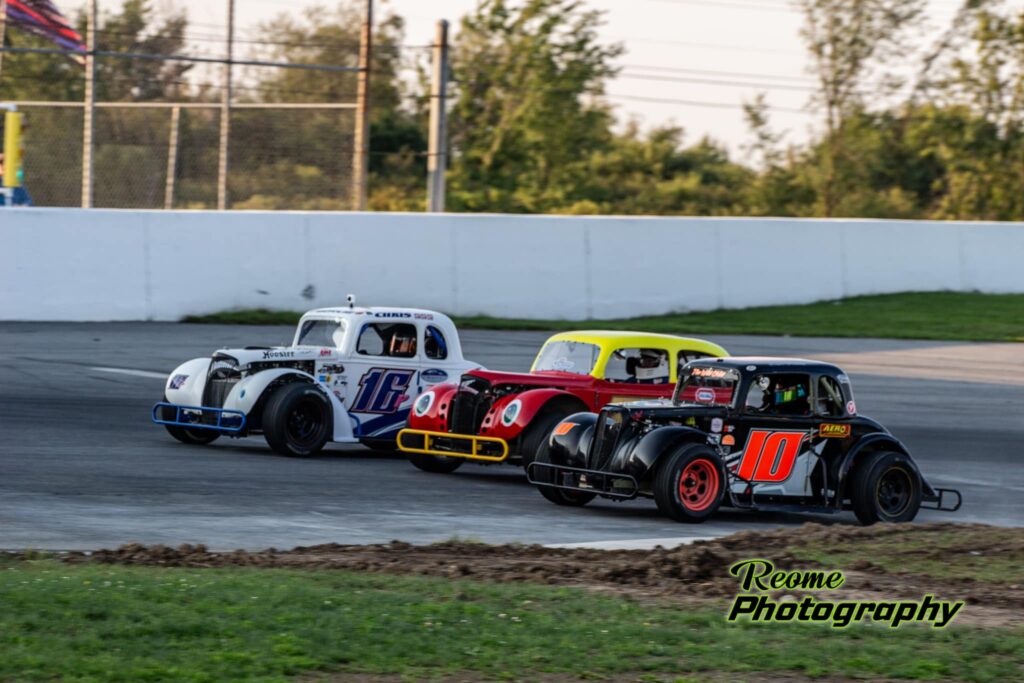 The Caskinette Ford Sportsman Modifieds feature saw trouble in the early going with an incident between Brad Winters and Andre Roggie which prevented either driver from working their way back through the field. John Ramsey the pole sitter had a strong run keeping the field behind him with steady pace. Kaden Rogers and Jeff Pringle worked their way from the fifth row to the top 5 towards the end of the race. In the closing laps the top 5 saw three drivers competing for their first ever feature win (Ramsey, Rogers, Pringle). Rogers would make it to second place and look for opportunities to get past Ramsey. Rogers found his way to the inside of Ramsey exiting turn two and the drivers would touch starting to arch into turn three which sent Ramsey sideways into the infield. Ramsey would recover in time to avoid a caution coming out. Rogers would hold on to complete his first ever feature win at EMRP. Pastor Bob Sly awarded Rogers with a custom electric guitar trophy in a new tradition expected to continue into the future. Rogers said he might try to learn some AC/DC on his new trophy. Feature Results: 1) Kaden Rogers, 2) Tony Pettinelli, 3) Joe Papin, 4) Kreig Heroth, 5) Jeff Pringle, 6) John Ramsey, 7) Dylan Bancroft, 8) Geoff Sharkey, 9) Scott Dinzler, 10) Kevin Warren, 11) Levi Arthur, 12) Joey VanLare, 13) Andre Roggie, 14) Brad Winters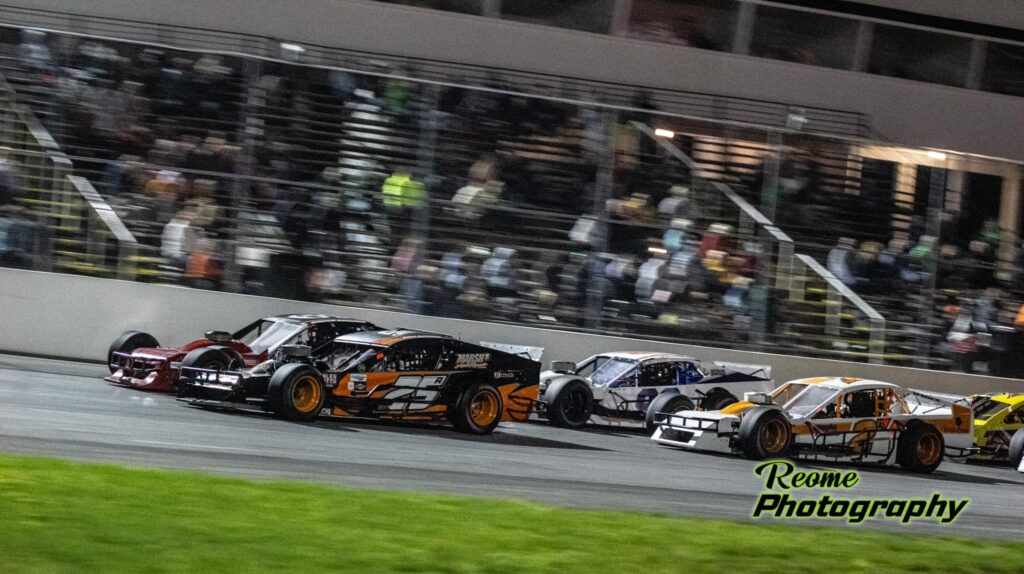 Sport Compacts and Thunderstocks would finish off the night with a strong field of cars including the return of many drivers including Evans Mills Raceway Park multi-champion Justin Pope, Anthony St. Mary, Justin Burns, and Jared Gilson. An opening lap incident would end the night early for championship-hopeful Mike Greenfield. Feature winning drivers Justin Coachman and Kevin Greenfield both started mid-pack in their respective divisions due to handicapping. Each driver found their way to the front and both finished the race with big leads over second place. First-time racer Collin Bauten would impress in a 9th place finish after preparing his car in the Greenfield shop. Ryan Wurtz would make the best of his night finishing second.
Thunderstocks Feature Results) 1) Kevin Greenfield, 2) Ryan Wurtz, 3) Justin Pope, 4) David Paige, 5) David Liscum, 6) Anthony St. Mary, 7) Tim Greenfield, 8) Michael Marcinko, 9) Collin Bauter, 10) Jared Gilson, 11) Justin Burns, 12) Mike Greenfield, 13) Angela Pettinelli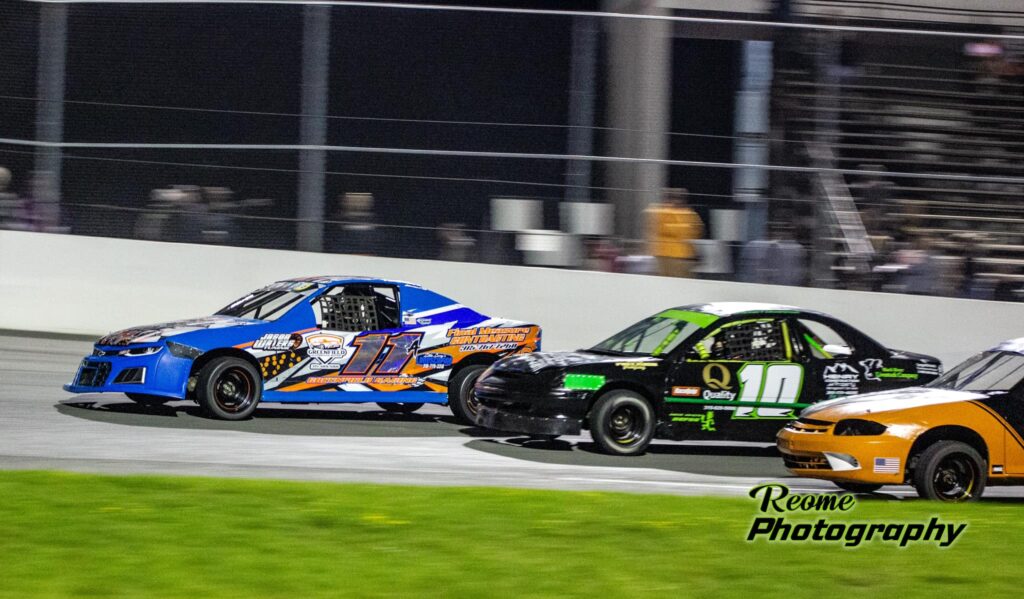 Sport Compacts Feature Results) 1) Justin Coachman, 2) Chuck Powelczyk, 3) Billy Matteson, 4) Sam Curcie, 5) Bridget DeMarse, 6) Mike Cole
Next Saturday is First Responders Night plus Box-Car Racing for kids presented by S&R Automotive, a fantastic family owner garage and towing service based in Mannsville, NY. Gates open at 5:00pm and heat racing begins at 6:30pm.