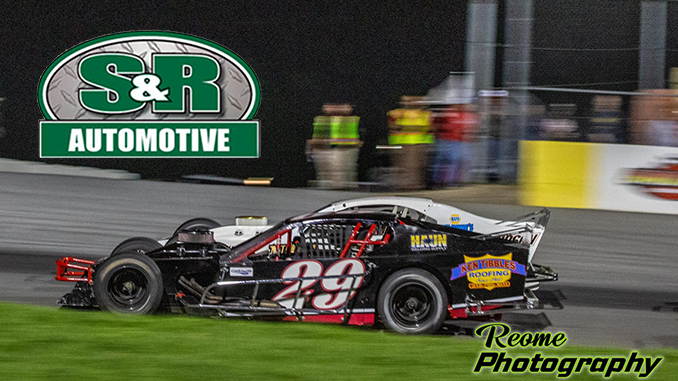 EVANS MILLS, NY – First Responders were the stars of the show on Saturday August 26th at the Evans Mills Raceway Park. Thanks to the organization and direction of Caskinette Ford Modified driver Kevin Warren over 20 emergency vehicles were in attendance for a show and shine and a parade around the track at intermission. Box Car racing also saw a strong car count at 20. Kids were divided into four races based on age groups. All kids were quick and some even decided to skip their designated course and charge down the front stretch into turn one of the big track.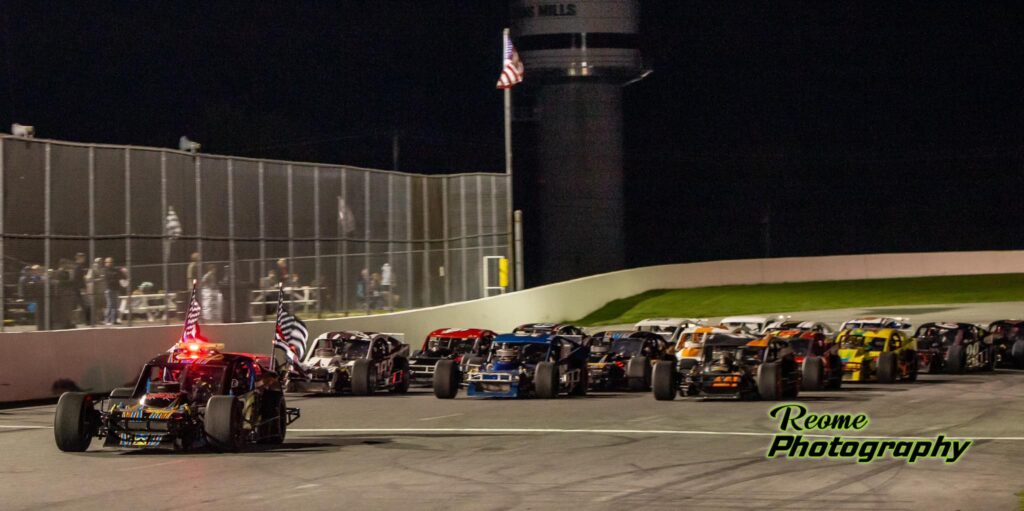 Kevin Warren and officers from the New York State Trooper office and Jefferson County Sherriff's office performed a 3-wide salute in honor of fallen NYS trooper Joel R Davis and all First Responders. Kevin led the salute with lights and flags on his car while the police vehicles brought up the tail end of the field.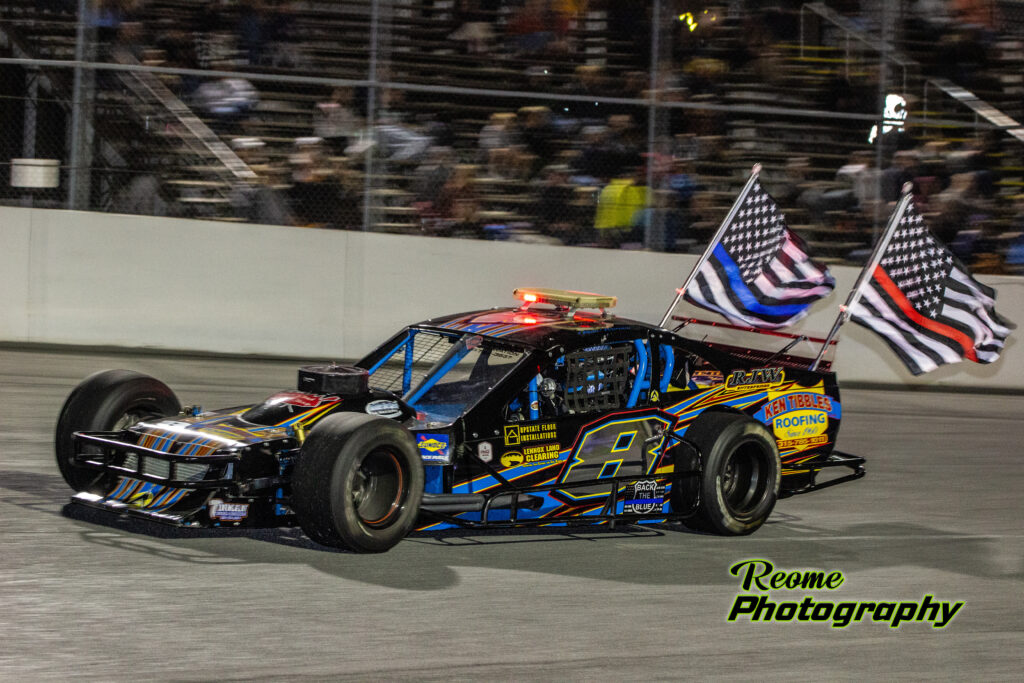 Two sets of cornhole boards were raffled off in the midway to benefit the Joel R Davis Foundation which supports local youth sports. WPBS-TV was also in attendance with Clifford the Big Red Dog. The Cornell Cooperative Extensions also had a table with stickers and activities for kids as they had all of their summer programs in the grandstands for the race.
On track, Sport Compacts and Thunderstocks were first to take the green flag for feature racing with Mike Greenfield up front. The race saw a few cautions early  before everyone hit their stride. In the early going Kevin Greenfield got by Mike and held the lead until lap 13 when the Greenfields caught David Liscum in turn three. Kevin was stuck inside and Mike found his way to the lead again by taking the longer way around the group of cars. Kevin would remain on Mike's bumper the rest of the way but ultimately the #17 of Mike would win the race. Chuck Powelczyk and Justin Coachman showed speed all night and Chuck was able to prevail to add another feature win to his resume.
Thunderstocks Feature Results: 1) Mike Greenfield, 2) Kevin Greenfield, 3) Ryan Wurtz, 4) 73T Tim Greenfield, 5) David Paige, 6) Justin Burns, 7) Anthony St. Mary, 8) Michael Marcinko, 9) Collin Bauter, 10)Angela Pettinelli, 11) David Liscum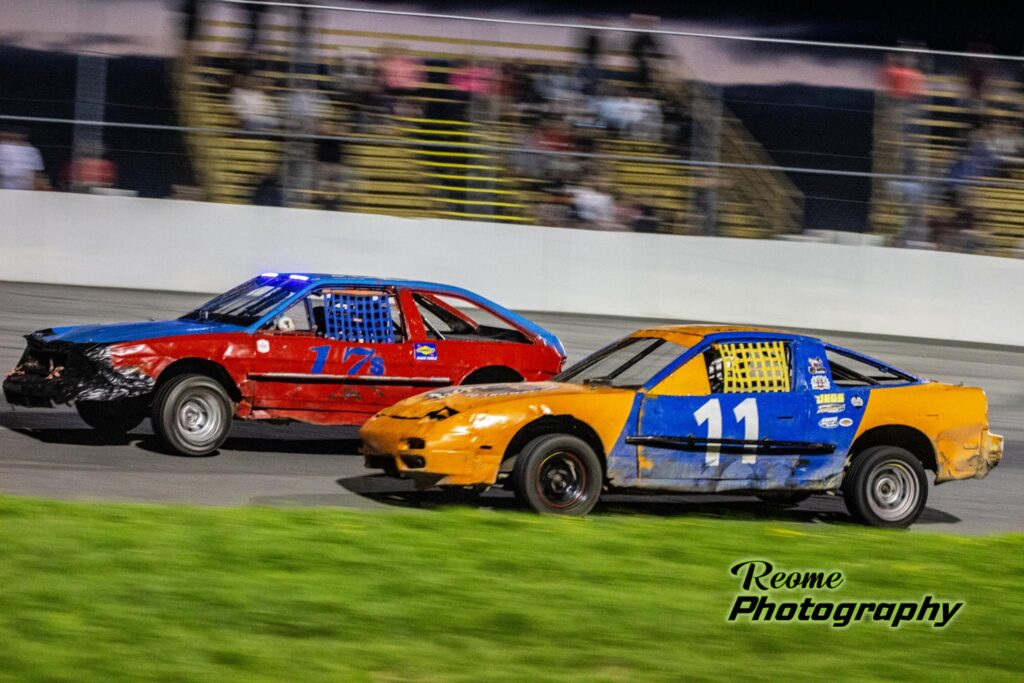 Sport Compacts Feature Results: 1) Chuck Powelczyk, 2) Justin Coachman, 3) Sam Curcie, 4) Bridget DeMarse, 5) Mike Cole, 6) Jason Rarick
After the 3-wide salute to begin the Caskinette Ford Sportsman Modified feature John Ramsey would take the field to the green for the second consecutive week. Scott Dinzler would hang on tight on the outside keeping his ground for 6th. An incident with lapped traffic caused a collective brake check going into turn one which ended the night for Geoff Sharkey, Joe Papin, and Jeff Pringle. Dylan Bancroft restarted third on the inside line. After taking the green, a wobble from Ramsey would send himself and Andre Roggie slightly up the track leaving enough room for Bancroft to make it three wide and take the lead He would hold on to take the checkered flag, his first of the season which had been quiet due to repairing his car from an Opening Week incident.
Caskinette Ford Sportsman Modifieds Feature Results: 1) Dylan Bancroft, 2) Tony Pettinelli, 3) 1 Kreig Heroth, 4) Randy Brunelle, 5) Levi Arthur, 6) Scott Dinzler, 7) 006 Corey Trombley, 8) 03 Andre Roggie, 9) John Ramsey, 10) 49 Kaden Rogers, 11) 57 Rylee Gill, 12) 8 Kevin Warren, 13) 41 Joey Clark, 14) 96P Jeff Pringle, 15) 66 Geoff Sharkey, 16) 3 Joe Papin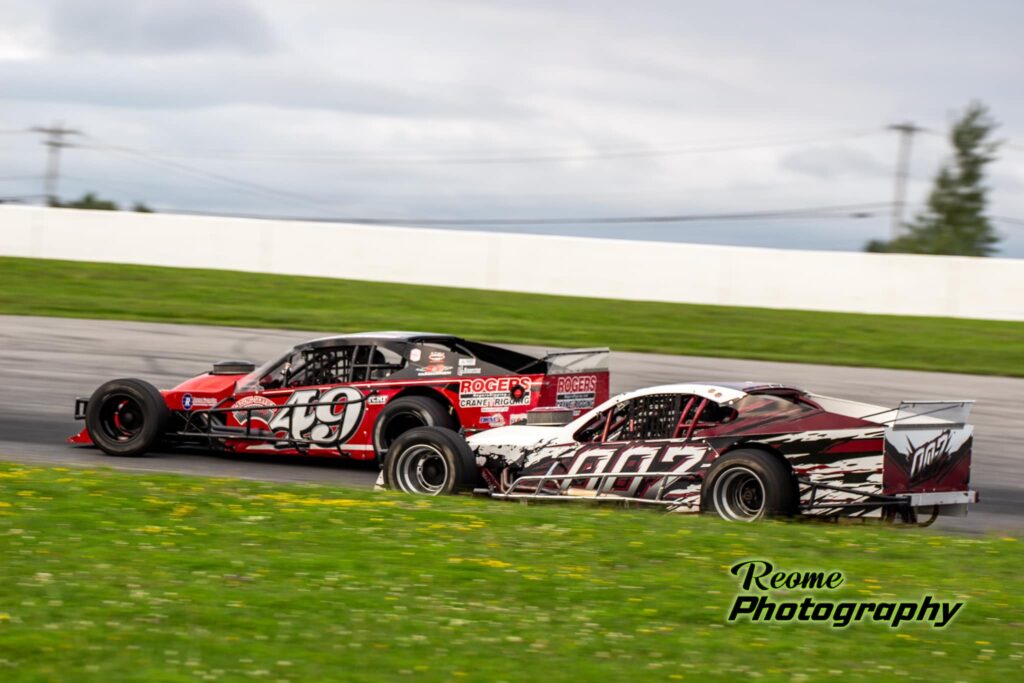 The Christman Fuel Service INEX Legends would take the track next. Matt Haufe and Joel Hall would take charge at the front of the field while Chris Malbeuf worked his way towards the front. On a restart Chris Malbeuf would choose the outside lane to make it to the front row. Chris would stand on it for the restart and and take the top spot where he held on until the end.
Christman Fuel Service INEX Legends Feature Results: 1) Chris Malbeuf, 2) 7 Matt Haufe 3) Kyle Hart, 4) 10 Brayton Malbeuf, 5) Brody Beckwith, 6) Joel Hall, 7) Cody Draper, 8) Jayden Hall, 9) Evan Thomas, 10) Kyle Wurtz, 11) 21C Carrie Ann Carr, 12) Devin Thornton, 13) Camdin Cook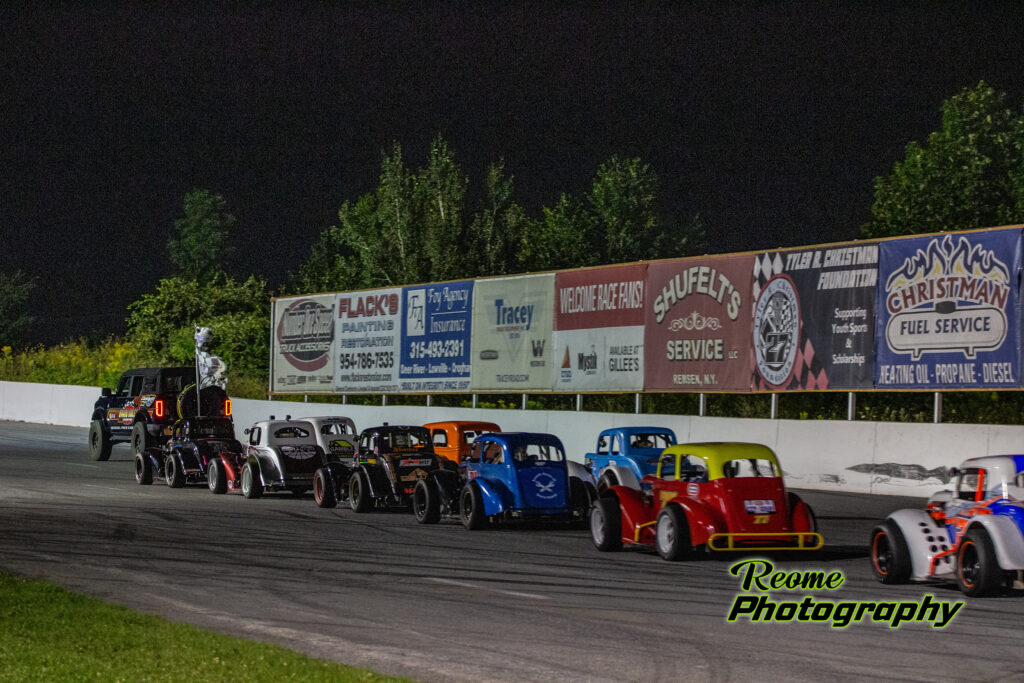 The Excess Storage Pro Late Models would finish the night off. Chuck Meyer would dominate the race until two laps to go when a caution bunched the field. The restart saw trouble for Papin and Meyer which allowed Rylee Gill and James Kiah to restart again on the front row. Rylee would take the lead and earn himself the victory.
Excess Storage Pro Late Models Feature Results: 1) Rylee Gill, 2) Tyler Papin, 3) Chuck Meyer, 4) James Kiah
Next week is Championship Night and Spectator Racing at intermission being presented by BEARCOM in Watertown and Thomas Trash and Excavating in Adams. Gates open at 5:00pm and heat racing is at 6:30pm.