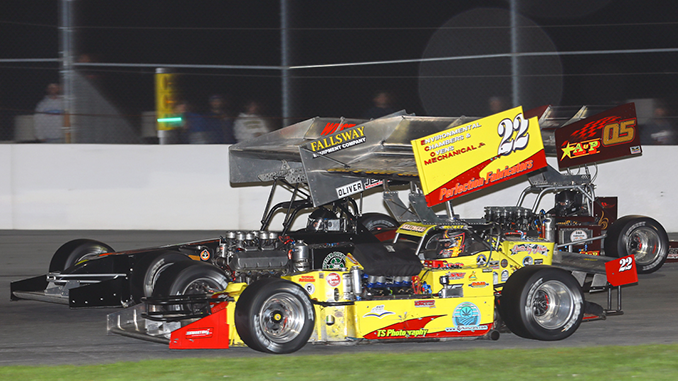 EVANS MILLS, NY – In early 2023 when the group of Ken Tibbles Roofing, TJ Toyota, Waite Toyota, and NAPA Auto Parts teamed up to support the 4th Annual John Burr Classic, turning it into a two-day event, Team EMRP knew great times were ahead! John Burr was a close friend to the Northern New York racing community and voice of the Evans Mills Raceway Park, Can-Am Speedway, and Super Dirt Week. Multiple race tracks honor John with a weekend of racing in his honor. This year's installment at the EMRP invited the newly merged ISMA/MSS Supermodified series for their Championship Finale race.
Friday Night Presented by NAPA Auto Parts featured post-race fireworks and racing from the Christman Fuel Service INEX Legends. Excess Storage Pro Late Models, Sport Compacts and Thunderstocks. The Excess Storage Pro Late Models would put on a great show with some new names in the crowd including the Caskinette Ford Sportsman Modified Track Champion Kreig Heroth. As the race played out, Rylee Gill, Pro Late Model track champion would retire early leaving Dylan Bancroft and Chuck Meyer trying to chase down Tyler Papin, but unable to get back to him. Papin would go on to win the classic.
Feature Results: 1) Tyler Papin, 2) Dylan Bancroft, 3) Chuck Meyer, 4) 3 James Kiah, 5) Terry Gardner, 6) Kreig Heroth, 7) Matt Larrivee, 8) Rylee Gill. 
The Christman Fuel Service INEX Legends would see the return of Dalton Rombough, Zach Christman, and Breanna Gilligan, three strong competitors. The race was competitive all through the field for the extended lap race. Chris Malbeuf, Kyle Hart, and Joel Hall would be the battle for the win in the closing laps. Kyle Hart would complete the win for the John Burr Classic. Quillon Dann turned in an impressive finish in his first time in a Legends car.
Feature Results: 1) Kyle Hart, 2) Brody Beckwith, 3) Devin Thornton, 4) Quillon Dann, 5) Kyle Wurtz, 6) Zach Christman, 7) Carrie Ann Carr, 8) Joel Hall, 9) Dalton Rombough, 10) Evan Thomas, 11) Chris Malbeuf, 12) Cody Draper, 13) Matt Brown, 14) Breanne Gilligan, 15) Brayton Malbeuf.
The Sport Compacts and Thunderstocks had an increased payout and split features thanks to the sponsorship of KLA Property Management and Kevin Greenfield's Final Measure Contracting. The Sport Compacts brought some strong cars out of the wood works including the 03 of Andre Roggie and 7H of Joe Orvis, 2022 track champion. Teammates Jock Symonds and Kevin Greenfield would be the class of the field and Jock was able to return to victory lane.
Feature Results: 1) Jock Symonds, 2) Kevin Greenfield, 3) Chris Bonoffski, 4) Chuck Powelczyk, 5) Justin Coachman, 6) Billy Matteson, 7) Joe Orvis, 8) Sam Curcie, 9) Bridget DeMarse, 10) Lorraine Powelczyk, 11) Mike Cole, 12) Jason Rarick, 13) Anthony Pettinelli, 14) Andre Roggie.
The Thunderstock feature would be where Kevin Greenfield would pick up his win on the evening ahead of hard charging Mike Greenfield and Ryan Wurtz. Jared Gilson finished with a strong top 5 as well.
Feature Results: 1) Kevin Greenfield, 2) Mike Greenfield, 3) Ryan Wurtz, 4) Jared Gilson, 5) Jerry Rogers, 6) David Paige, 7) Anthony St. Mary, 8) Justin Burns, 9) Michael Marcinko, 10) Collin Bauter, 11) Angela Pettinelli, 12) Erik Carr, 13) Steven Burdick.
Saturday Nights action would be presented by TJ Toyota of Potsdam, Waite Toyota in Watertown, and Ken Tibbles Roofing. The night began with the Jake's Automotive Small Block Supers Championship Series making their second appearance of 2023. Jesse Bearup had won the spring race at EMRP and had a healthy fan base in the grandstands. Mike Bruce and Dan Kapuscinski would be there to challenge Bearup and ran at the front all evening until Bruce found himself in the infield towards the end of the race. Kapuscinski would go on to earn his second "Johnny" trophy tying with Mike Bruce for two-each.
Feature Results: 1) Dan Kapuscinski, 2) Jesse Bearup, 3) Cameron Rowe, 4) Rich Petrucco, 5) Griffin Miller, 6) Shawn Muldoon, 7) Dj Shuman, 8) Noah Ratcliff, 9) AJ Larkin, 10) Brad Haynes, 11) James Babcock, 12) Drew Pascuzzi, 13) Mike Fowler, 14) Jude Parker, 15) Mike Bruce, 16) Cam Rowe Jr. 17) Jordan Sullivan, 18) Robbie Wirth.
The Caskinette Ford Sportsman Modifieds were on deck next and performed a LeMans style driver intro on the track. Andre Roggie would have a stong pill draw to help a dominate car start up front. Stafford Speedway track champion Tyler Barry, 2022 JBC winner Taylor Caprara, and Bryce Bailey were all entered in the race. Roggie would remain strong all night keeping the tough Joe Papin behind him in the closing laps.
Feature Results: 1) Andre Roggie, 2) Joe Papin, 3) Bryan Sherwood, 4) Tyler Barry, 5) Dylan Bancroft, 6) Taylor Caprara, 7) Tony Pettinelli, 8) Levi Arthur, 9) Randy Brunelle, 10) Kaden Rogers, 11) Scott Dinzler, 12) Matt Sharkey, 13) Geoff Sharkey, 14) Corey Trombley, 15) Damon Frutchey, 16) Rylee Gill, 17) Steven Sherwood, 18) Kreig Heroth, 19) John Ramsey, 20) Joey VanLare, 21) Bryce Bailey, 22) Terry Gardner, 23) Rick Brunelle (DNS).
The ISMA/MSS Supermodified would now roll for their first feature ever at EMRP. Heading into the race, Otto Sitterly lead the championship points but would have to fend off three other drivers who could finish the race on top of the standings; Mike McVetta, Kyle Edwards, and Mike Ordway Jr. McVetta set the fastest time in time trials at 12.001 just shy of the EMRP track record. Otto Sitterly would start in good position for the feature but would face trouble early on retiring him from the race after Mike Bruce brought out the yellow leaking oil in his ISMA/MSS debut. Eric Lewis would also retire at this time. McVetta would control the race most of the night knowing he is now the likely champion. With five laps remaining Jeff Abold worked his way to McVetta's bumper a couple times and seized an opportunity to take the outside three-wide into turn four passing McVetta and lapped traffic to take the lead and win the first ISMA/MSS race at Evans Mills. McVetta would indeed be crowned Champion at the conclusion of the race.
Feature Results: 1) Jeff Abold, 2) Mike McVetta, 3) Mike Ordway Jr. 4) Trent Stephens, 5) Moe Lilje, 6) Brandon Bellinger, 7) Mike Lichty, 8) Mark Sammut, 9) Dave Danzer, 10) Kyle Edwards, 11) Dan Connors Jr., 12) Jonathan Lesiecki, 13) Joe Gosek, 14) Talon Stephens, 15) Dave Helliwell, 16) AJ Lesiecki, 17) Dave Shullick Jr. 18) Lou LeVea Sr., 19) Otto Sitterly, 20) Mike Bruce, 21) Eric Lewis.