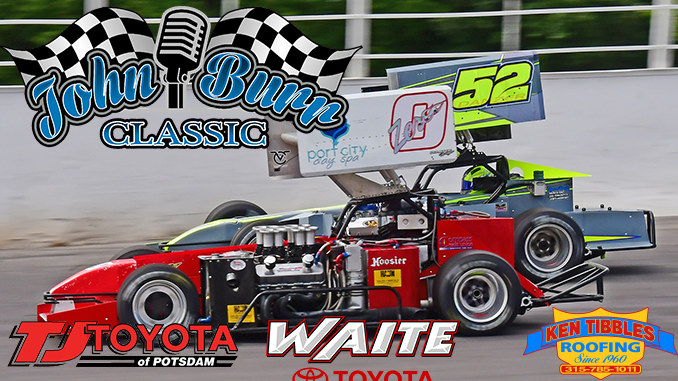 EVANS MILLS, NY –  The 4th Annual John Burr Classic at the Evans Mills Raceway Park is ready to welcome the droves of race fans on September 15th and 16th. TJ Toyota in Potsdam, Waite Toyota in Watertown, Ken Tibbles Roofing, and NAPA Auto Parts all jumped on board to provide the action to the North Country. For the first time in the history of the John Burr Classic, it will now be a two-day event with racing on both days and a fireworks show after the action on Friday night.
The main attraction of the weekend will be the 100-lap $4,000 to win ISMA/MSS Supermodified Championship Race that four drivers are in contention for (Otto Sitterly, Mike McVetta, Kyle Edwards, and Mike Ordway Jr.) This will be the first stop ever for the world's fastest short-track race cars. A full field of 20+ cars is expected to attend. Joining them on Saturday night is the historic 75-lap John Burr Memorial Caskinette Ford Sportsman Modified race that was won by Taylor Caprara in 2022. Ken Tibbles Roofing has been a strong supporter of this race each year! Jake's Automotive Small Block Supermodified Championship Series will also race for their second time of the season on Saturday night. Redwood, NY native Jesse Bearup took the first installment of the SBS series in the spring.
On Friday night a $500 to win, $100 to start race will be held for the Sport Compacts and Thunderstocks. The Christman Fuel Service INEX Legends will also have a $500 to win and $100 to start pay day. The Excess Storage Pro Late Models are $800 to win and $200 to start. The night will conclude with a fireworks extravaganza sponsored by NAPA Auto Parts.
Camping is available for $50
VIP Tower booths are available for Friday: single booth $50, double booth $100. Booths are sold out for Saturday.
Tickets are available at the Box Office
Order of Events: https://evansmillsracewaypark.com/john-burr-classic-weekend/