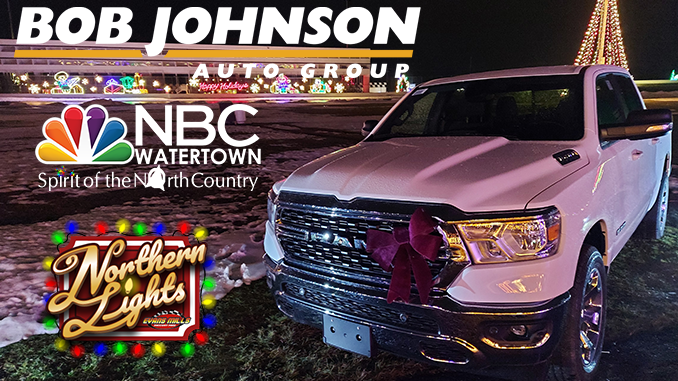 EVANS MILLS, NY – The North Country night skies will once again by illuminated by brightly lit magic castles, snowmen, and Christmas trees. The second annual installation of the Northern Lights at the Evans Mills Raceway Park will re-open Thanksgiving night Thursday November 23, 2023. The new drive through community light show is once again presented by proud partners Bob Johnson Auto (Watertown and Pulaski) and NBC Watertown who believed in the new venture back in 2022 and jumped on board to help. The show will be open weekly Thursday through Sunday from Thanksgiving to New Year's Day with hours of operation 5:00pm – 9:00pm each night.
Northern Lights is a community business supported drive-through light show brought to life to provide the North Country a new holiday tradition. Evans Mills Raceway Park general manager Nick Czerow stated "It's an easy way to celebrate the holiday season with friends and families. Everyone is going 100 miles per hour with working, shopping, and planning and Northern Lights is a comfortable 20 minute escape for a group or even for someone on their way home from work or shopping. It was fun to see the different types of groups coming through with buses last year."
The Northern Lights staff is always happy to welcome new sponsors to the show. Czerow continued, "After the enjoyment and response from the community last year, we were happy to bring the show back again for 2023. We'll keep working with Brandano Displays to make sure we are putting on a top notch professional light show. The sponsors of Northern Lights really made the first year possible, and their support this year helps us work on everything and improve the show for the future. All sponsorship is welcome and it's a thoughtful way to treat your employees and a great way to advertise your business and say thank you to the community for their support all year."
Northern Lights is also working on plans for a "Walk the Lights" night that they hope will come to fruition this year.
Northern Lights tickets are by the car load with three levels available, single carload $20 (1-16 people), minibus $30 (17-25 people), and bus/motorcoach $75 (26+ people). Tickets can be purchased ahead of time from www.evansmillsracewaypark.com or at the Christmas Cottage box office at Northern Lights. Cash and cards are accepted at the box office. Card transactions will incur some fees.
Purchase Northern Lights Tickets Here: https://northernlightsemrp.ticketspice.com/2023-northern-lights-at-the-evans-mills-raceway-park
The drive through event does not require you to get out of your vehicle to participate. Cars to buses will be able to fit through the show. Northern Lights is held at the Evans Mills Raceway Park at 28412 Steinhilber Rd. Evans Mills, NY 13637. The US-11 entrance to the track will be closed. All vehicles must enter from Steinhilber Rd. at the top of the hill.
For more information on sponsorship or tickets contact Nick Czerow at emrpgm@yahoo.com or (315) 591-2771.